The roll was called as Stark County's Democratic Party Central Committee gathered in a church hall in northwest Canton to decide who should be Sheriff.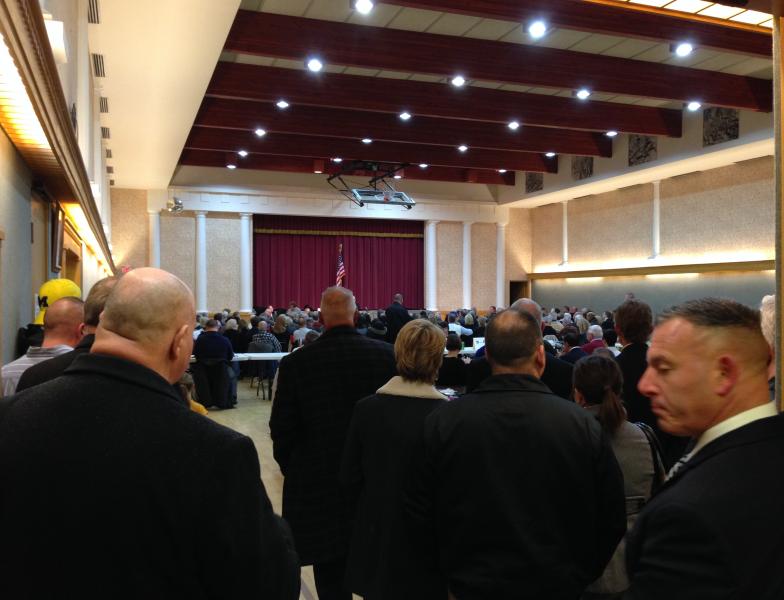 And, after a sometimes contentious hour and half the committee voted 101-to-65 for a man they had actually put in the office nearly a year ago, only to see him removed last month by the Ohio Supreme Court.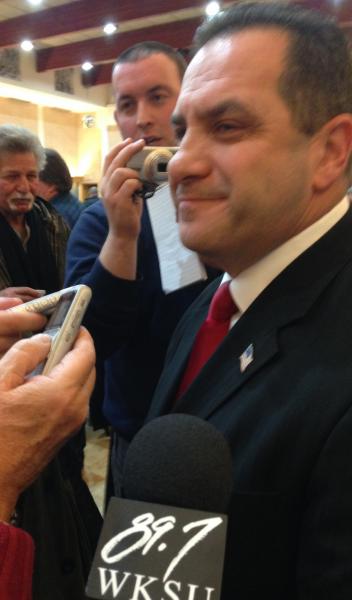 He is former state highway patrolman and Massillon Safety Director George Maier.
"I received numerous notes, messages, and emails, from people I don't even know, commending me for a job well done; encouraging me to take on the fight to get back here. It hasn't been easy. It really hasn't been easy. But I'm very proud to take on the reins again, and to work with the staff of the Sheriff's Department to keep Stark County Safe."
Strange case
The fight Maier is talking about came after an unusual chain of events. Last year, long-time Sheriff Tim Swanson didn't seek reelection. One of his senior deputies, Mike McDonald, like him a Democrat, defeated Republican Larry Dordea for the office in November of 2012. But McDonald was stricken with a terminal illness and couldn't take office.

Swanson stayed on while County Democrats picked McDonald's replacement — their responsibility under Ohio election law. But, their pick — made in February — was Maier.
Differing view
Swanson, County Prosecutor John Ferrero and others in the party wanted another of Swanson's lieutenants, Louis Darrow.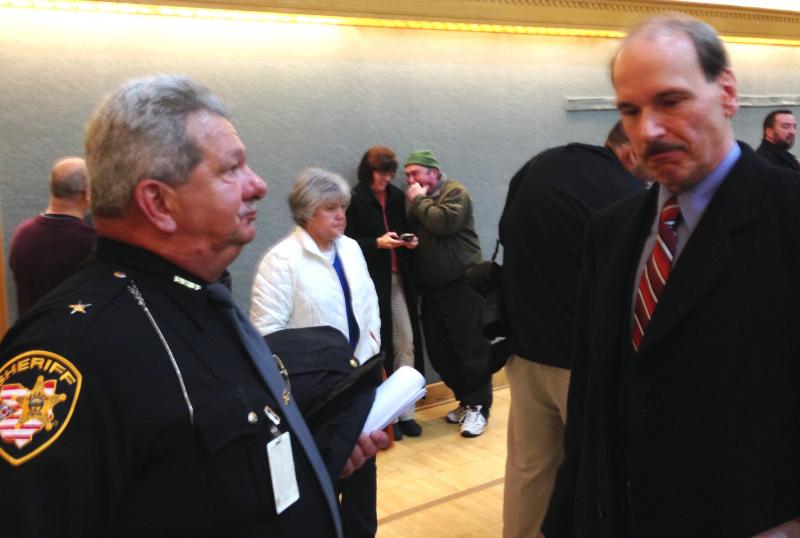 And, in Swanson's view, Maier didn't meet one of the qualifications to be a a sheriff in Ohio because, although he had been working in law enforcement in management and oversight, he had not been -- as state law requires — in a full-time peace officer role within two years of his appointment.

"I got no beef with George; and I think he would do a good job," said Swansoh. "I just…dog gone it. …There's rules, and law, and we've gotta follow it -- especially in this office."
Legalities
The Swanson faction sued, and after nine months in the courts, the Ohio Supreme Court said last month that Maier was out and the party had to pick again.
But, local Democratic Party Chairman Randy Gonzales and others who backed Maier originally put his name up for appointment again, noting that after his ouster he hired-on as a deputy sheriff in Harrison County. In their view, he now meets the requirements. For Gonzales, that and Maier's performance while office for most of the year are what won him re-appointment; and by a wider margin of votes than when he was picked the first time in February.

"This last nine months showed what a great job he's going to do as sheriff. I think the public respected that. I think this committee respected that. And they sent the message today that they'd like to have George continue as their sheriff."
No decision yet
Asked if he would challenge Maier's qualifications again in court, Swanson said he hasn't decided and would talk with legal experts in coming days.
He and Maier also spoke at length as the committee meeting was ending.After they parted with a handshake, Maier characterized what Swanson had to say: "He wished me well. And he said if there were any more filings, he hoped they would go my way."
Maier is expected to be commissioned — again -- by the Ohio Secretary of State and back on the job before the weekend.