Loading...


Government and Politics



Thursday, December 12, 2013




Dog, cat abuse bill passed by Ohio House




Animal abuse could be punishable by up to a year in jail by the bipartisan Goddard Bill




by WKSU's STATEHOUSE CORRESPONDENT JO INGLES



Reporter
Jo Ingles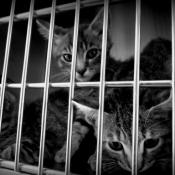 Kittens huddle in a shelter, hoping for adoption. A new bill aims to prevent abuse of pets.
Courtesy of Dave Parker Flickr CC
Download (WKSU Only)
In The Region:
The Ohio House has passed a bipartisan bill increasing penalties for animal abuse. In most cases, the Goddard Bill, named for Dick Goddard, makes abusing a dog or cat a low level felony, punishable by up to a year in jail.

Lawmakers on both sides of the aisle say abuse toward pets often leads to violence toward humans.

However, Republican Rep. Lynn Wachtmann from northwest Ohio worries the bill goes too far.
"A prosecutor could, I know we like to trust their judgment but I would not like to give them the judgment of charging a person with a felony who for instance, may shoot a neighbor's dog that is coming over the maul their dog or something or kill their cat."

The bill passed the house 83-to-8 and now goes to the Ohio Senate.
---
---
---
Stories with Recent Comments