Loading...


Government and Politics



Monday, December 16, 2013




Ohio's Sen. Brown sees enough GOP support for budget bill to pass




Portman has not yet committed to the compromise bill


by WKSU's M.L. SCHULTZE


and

MARK URYCKI



Web Editor
M.L. Schultze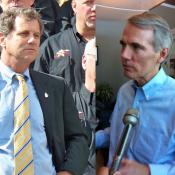 The compromise budget bill has the support of Sen. Sherrod Brown, but Sen. Rob Portman hasn't committed yet.
Download (WKSU Only)
In The Region:
The Senate is inching toward passage of the compromise budget bill, with the latest headcount showing four Republicans are on board. Ohio's Democratic U.S. Sen. Sherrod Brown is backing the bill. And he expects enough Republicans will agree to provide the 60 votes to get it over procedural impasses and the 50 votes it needs for final passage.
"I think their reluctance is based on fear of the tea party. I've seen a number of my colleagues sort of shrink from doing what I think they think is the right thing because of that. I'm not going to mention names of course, but I think something this important and this big -- considering what the alternative might be -- that they will pass (it)."
Ohio's other senator, Republican Rob Portman, is seen as a key swing vote, but has not said how he'll vote. The four Republicans who plan to support the deal are Susan Collins of Maine, John McCain of Arizona, Ron Johnson of Wisconsin and Orrin Hatch of Utah.
---
---
---
Stories with Recent Comments