A quarter century ago, the state of Ohio required counties and cities to join solid waste districts and establish ways to reduce landfill use. That sparked recycling's growth.

Diane Bickett heads Cuyahoga County's Solid Waste District. She says in 2011, for the first time, just over half of the county's waste was recycled. And the EPA report for last year shows even more improvement.
"We're at an almost a 54 percent recycling rate. That's the amount of waste we're diverting from landfills through a variety of methods, recycling, composting and other waste reduction activities. That's the residential, commercial and industrial sectors combined."
Single stream doesn't make everyone a fan
That figure equals more than 1.2 million tons of recycled trash.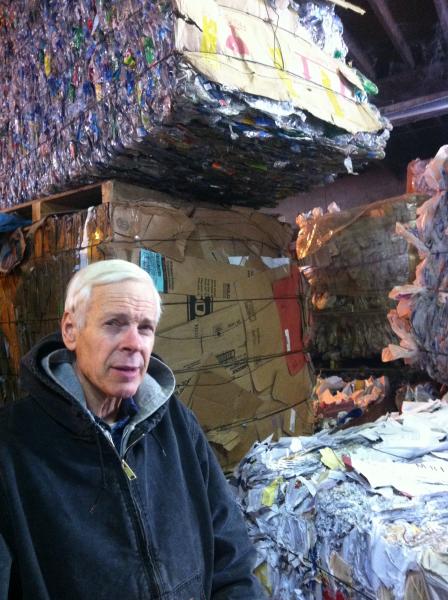 Some of that is handled by Recycle Midwest, a company on Cleveland's Eastside that's been operating for nearly 25 years. CEO Richard Bole says his small operation inside this gritty brick building hand-sorts nearly 40 recyclable products. Much of that comes from the prevalent residential and commercial single-stream recycling system that groups everything together.


Surrounded by huge bales of paper, plastic bottles and cans, Bole bristles at single stream because he says it makes the sorting harder. He hopes to move to a bigger space someday, and use a magnet to pull metals out of paper and other more advanced sorting technologies.
"Right now we're allowing the No. 1 pet bottles and No. 1 crinkly plastic to stay on the conveyor going down and we're puling off everything else. That includes glass, other plastics, metal, trash and some paper unfortunately. With single stream, you always have paper with the bottles and cans, making it difficult to sort."
Brian Krigmont is one of Bole's eight employees. He's beside the conveyor belt sorting through blue plastic bags of trash.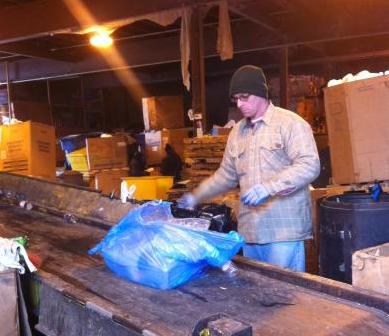 "Everything has a certain spot, there's really not much to it. All the plastics, they can't be mixed up because then it will be contaminated when they melt it down and recycle it. You just go through the bags that come from different companies and sort it out."
Some sorting will never go away
Some of this type of sorting will probably always be necessary, but recycling's future is changing. Brenda Pulley is senior vice president for Keep America Beautiful's recycling program. The 60-year-old litter prevention organization established the recycling end of things five years ago. She says many companies are looking at their bottom lines and seeking ways to make their products even more recyclable.

"Companies and manufacturers are looking at how they can use what was once viewed as waste and use it as a resource. And that leads to change: What new technologies, equipment needs to be put in place, what new investments need to be made so they can start using that material. So... the plastic bottle, while it could be recycled into carpet or something, the technology is now there to recycle it back into a beverage container."

Eating the waste
While recycling is up, Bickett of Cuyahoga County's Solid Waste District says a new technology developed by Quasar Energy of Cleveland uses a bio-digester to help reduce a part of what's is still being landfilled.

"So that's focusing on the organic fraction of our waste stream, part of the untapped area of our waste collection, food waste composting, more curbside organic diversion. So the biggest portion of our landfill is the organics, and that will be the frontier trying to capture the food waste and convert that into energy, which is what Quasar is already doing."

And, Bickett says another area company is working on a process to turn plastic back into the oil it was made from.