Loading...


Other Stories



Monday, December 16, 2013




Cleveland police says killings of transgender women were hate crimes




But Ohio law does not not include gender identity in its hate crimes law




Story by

ASSOCIATED PRESS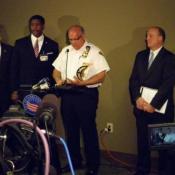 FILE PHOTO: Assistant Chief Ed Tomba says police believe slayings of two Cleveland transgender women were hate crimes.
Courtesy of FILE PHOTO
Download (WKSU Only)
In The Region:
Cleveland police believe the recent slayings of two transgender women were motivated by hate.

The Northeast Ohio Media Group reports is reporting that Deputy Police Chief Ed Tomba spoke at a forum yesterday called by advocates of Cleveland's lesbian, gay, bisexual and transgender community. He says federal authorities would have to decide whether to try the cases under hate crime law, but police are calling them "crimes of hate."

Police have no suspects and don't believe the same person is responsible for the two slayings earlier this month.

A disabled, transgender woman was found slain at an assistant living care facility. Another transgender woman was shot in the head in a vehicle.

The activists stressed the need for more education about transgender women and men.
---
---
Stories with Recent Comments