Loading...


Courts and Crime



Monday, December 16, 2013




Ohio AG: Much of Navy Vets scam money will never be recovered




Professional fundraisers got most themoney


by WKSU's M.L. SCHULTZE


and

MARK URYCKI



Web Editor
M.L. Schultze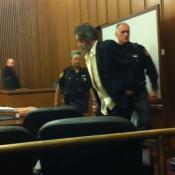 The man known Bobby Thompson for a decade is expected to push for a new trial based, in part, on his behavior at the last one.
Courtesy of KEVIN NIEDERMIER
Download (WKSU Only)
In The Region:
Ohio Attorney General Mike DeWine acknowledges most of the $100 million the man known as Bobby Thompson raised in the name of helping veterans will never be recovered. But DeWine insists what is recovered will be redirected toward vets. A Cuyahoga County judge sentenced Thompson -- whose real name is John Donald Cody -- today to 28 years in prison for fraud, money laundering and theft. From 2002 through 2010, he collected money through a charity called the U.S. Navy Veterans Association. DeWine says many of the donations were small, but added up.
"Most the people who gave money gave it in 10, 15, 20, 30 40 dollar increments. So these were just average Ohioans who got a call. We estimate that about $2 million came out of the state of Ohio. We are not sure frankly how much came out of the rest of the country but we know it's in the tens of millions of dollars."
More than 80 percent of the money went to professional fundraisers, so it cannot be recovered under state law. Cody is expected to ask for a new trial. He presented no witnesses at his first trial, and his appearance and behavior became increasingly bizarre.
---
---
---
Stories with Recent Comments