Loading...


People



Monday, December 16, 2013




Ohio Medicaid expansion proponents say their work is done




They're pulling their petitions for the 2014 ballot




by WKSU's ANDY CHOW



Reporter
Andy Chow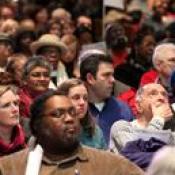 Healthy Ohioans Work says its work on Ohio Medicaid expansion was done by the state Controlling Board.
Courtesy of Healthy Ohioans Work
Download (WKSU Only)
In The Region:
The group pushing to put Medicaid expansion on the November 2014 ballot is no longer collecting signatures. The Healthy Ohioans Work committee told the Secretary of State's office that it is withdrawing its petition. Since the state Controlling Board has already expanded Medicaid, the group's effort is no longer needed. Jon Allison, a spokesman for the committee, said in September it did not want to go to the ballot.
"There aren't many other options on the table. This is not ideal. It is not a great solution to go to the ballot but we have to put that option on the table.
The Controlling Board has seven members, six of whom are lawmakers. But other lawmakers and some conservative groups are suing in the Ohio Supreme Court, saying the Controlling Board overstepped its authority.
---
---
---
Stories with Recent Comments