Loading...



From WKYC.COM / TV 3
Get the latest school closings and delays


Funding for WKSU is made possible in part through support from the following businesses and organizations.
---
For more information on how your company or organization can support WKSU, download the WKSU Media Kit.

(WKSU Media Kit


)
---

Arts and Entertainment



Tuesday, December 17, 2013




KISS, Nirvana, Linda Ronstadt part of the new Rock Hall class




A handful of artists made it in after a long wait, while Nirvana is inducted in its first year of eligibility


by WKSU's KABIR BHATIA


Reporter
Kabir Bhatia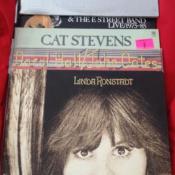 Linda Ronstadt and Cat Stevens debuted in the 1960s, while Peter Gabriel, Hall & Oates and the E Street Band debuted in the 70s. All made their first appearances on the ballot this year, and will be inducted, along with Nirvana (in their first year of eligibility) and KISS.
Courtesy of K. Bhatia
Download (WKSU Only)
In The Region:
The Rock and Roll Hall of Fame's class of 2014 includes pioneers of the Grunge Rock '90s, four overdue singer-songwriters from the '70s, and the Svengalis of the biggest bands of the '60s. AND voters are finally inducting KISS. WKSU's Kabir Bhatia reports on the makeup of the class that will officially take its place in the Rock Hall on April 10.

KISS, Long Island's self-proclaimed "heavy metal Beatles," have finally gotten the nod from the Rock Hall, 14 years after they were first eligible. The band led the online fan poll by up to 15,000 votes at times, and their omission from the hall until now has been decried by the KISS Army. Their emphasis on rock's theatrics is matched by fellow nominee, Peter Gabriel.

Peter Gabriel
Gabriel was a member of Genesis until 1975, and was actually inducted with that band in 2010. He made a name for himself exploring world music, and with a series of trailblazing music videos, including "Sledgehammer," one of the most-played in the history of MTV. Gabriel has been eligible for induction since 2002. But most of the other acts being inducted next year have waited even longer.

Cat Stevens
He first found fame as a pop singer in swinging London in the mid-60s. But after a near-fatal bout of tuberculosis, he re-emerged in 1970 as an introspective singer-songwriter. By the end of the decade, he would change course again, devoting his life to Islam. But in between, he released 10 straight gold and platinum albums.

Linda Ronstadt
Her career got started about the same time as Stevens', and she spent the 1970s both as a top concert draw and a feminist icon. She's recorded country rock, pop standards, Spanish language albums, and she even wrote the foreword to the 2004 edition of the NPR Curious Listeners' Guide to Folk Music.

Hall & Oates
They debuted on the ballot this year, despite being eligible since 1997. The Philadelphia duo's mix of R&B, soul and synthesizers led to a few hits in the '70s. But feeling that outside producers didn't understand their sound, Hall & Oates changed gears and produced themselves at the dawn of the '80s. A long string of hits followed, including five No. 1 singles, and they're actually the fourth most-successful act not to be inducted in the hall, behind Janet Jackson, Whitney Houston and Chicago. Hip-hop's continued sampling of the band has helped their popularity, along with the webcast, "Live From Daryl's House."

Nirvana
Rounding out this year's performing class is Nirvana. The Seattle trio of Kurt Cobain, Krist Novoselic and Warren-native Dave Grohl released just four albums before Cobain's suicide in 1994. But they brought grunge rock to the radio with the release of 1991's "Smells Like Teen Spirit." Acts like Pearl Jam, Soundgarden and the Smashing Pumpkins followed in their wake. Those groups are likely to be considered in the near future, as are some of the acts who did not get in this year, including LL Cool J, The Replacements, Link Wray and Yes, who missed the cut despite Rick Santorum's political strategist being a major fan. He whipped up a bipartisan marketing and public awareness campaign. Maybe next year. The Zombies also missed the mark, and they're one of the few successful British Invasion bands to not be inducted.

Non-performers and Musical Excellence
In this year's non-performer category, two giants of the British Invasion will get their due. Brian Epstein was running the record department at his family's Liverpool furniture store when he started managing a new group on the side. His business acumen has been disputed, but his tenacity and flair for artistic development catapulted the Beatles from the dingy Cavern Club to the pinnacle of western culture. Epstein died of an accidental overdose of sleeping pills, just after the release of "Sgt. Pepper."

The Beatles' main rivals, the Rolling Stones, had their career similarly managed by Andrew Oldham, also being inducted this year. In fact, he got his start working as a publicist for Brian Epstein in the early 1960s.

And finally, the E Street Band joins Bruce Springsteen in the Rock Hall. The group is being inducted in the Musical Excellence category, previously known as "Sidemen." The E Street Band was never credited on a record until 1986, which is why they weren't eligible for induction until now. Bruce Springsteen himself was inducted in 1999.

The Rock and Roll Hall of Fame's ceremony rotates among Los Angeles, where it was held last year, New York, where it will be next April, and Cleveland, where it will be held in 2015.



---
---