Loading...


Courts and Crime



Wednesday, December 18, 2013




Another of Dimora's inner circle is heading to prison




The last of the big defendants, Kevin Kelley, will find out his fate Friday


by WKSU's M.L. SCHULTZE


Web Editor
M.L. Schultze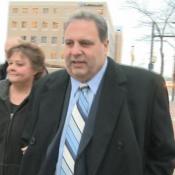 Gallagher helped orchestrate a gambling junket for Jimmy Dimora, shown outside the federal courthouse in Akron, that became a centerpiece of Dimora's trial.
Courtesy of TIM RUDELL, FILE PHOTO
Download (WKSU Only)
In The Region:
One of the circle of corrupt Cuyahoga County employees that surrounded former Commissioner Jimmy Dimora and Auditor Frank Russo is going to prison for four years. Daniel Gallagher also was ordered today by federal Judge Sara Lioi to pay $87,000 in restitution. He'd earlier pleaded guilty to bribery, conspiracy and tax charges. Gallagher was an employee in the county engineers office until he retired in 2002, when he started a company called Eagle Consulting. He used money channeled through his consulting firm to pay for gambling junkets and other bribes for Dimora. He also steered county contracts and funneled bribes to other officials, including J. Kevin Kelley. Kelley, who was a key part of the corruption and then a key witness against the others, is to be sentenced Friday.
---
---
---
Stories with Recent Comments