Loading...



From WKYC.COM / TV 3
Get the latest school closings and delays


Funding for WKSU is made possible in part through support from the following businesses and organizations.
---
For more information on how your company or organization can support WKSU, download the WKSU Media Kit.

(WKSU Media Kit


)
---

Economy and Business



Tuesday, December 24, 2013




Bill in Ohio Statehouse would allow beer alcohol content up to 21 percent




Craft breweries say the higher alcohol levels would boost business




by WKSU's ANDY CHOW



Reporter
Andy Chow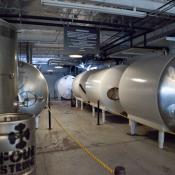 Bill in Ohio statehouse would ease restrictions on craft breweries
Courtesy of Andy Chow
Download (WKSU Only)
In The Region:
Before heading home for the holidays, one legislator introduced a bill that would ease the restrictions of craft brewery operations. Statehouse correspondent Andy Chow takes a closer look at Ohio's microbrew industry and the impact this bill could make.
Dan Cochran is the owner of Four Strings Brewery, a craft operation inside the active Columbus-area neighborhood of Grandview. As he gives me a tour of his brewery you can tell that he loves his job.

"So right now these guys are sparging the grain. This is just carbon dioxide—there's no pump hooked up to this—there's nothing boiling—that is nothing but CO-2 blowing off."

We're standing in front of a huge, 1,000 gallon dairy tank which has been re-purposed to brew 30 barrels of beer. Cochran's showing me the part of the brewing system when the carbon leaves the container and pumps into a bucket of water. For someone who started brewing small batches of beer in his home in the 90's, this is still one of Cochran's favorite part of the process.

"This is all-natural; man has making beer this way for 6,000 years it's just—I never get tired of seeing that."

The new wave
Four Strings manufactures about 2,000 barrels a year. Cochran started his company in 2011 at a time when the microbrewing industry started to really take off in Ohio. He says he was part of the first wave of new generation brewers in the Buckeye State.

According to the state's liquor control office, Cochran is among 103 registered craft brewers in Ohio. That's more than West Virginia, Indiana and Kentucky… combined. Michigan is on par with 110 microbreweries. And as for Pennsylvania, they don't distinguish between large and small operations but altogether the state has 149 breweries.

In the past couple of years, leaders at the Statehouse have been making moves in hopes of helping the industry. That includes a law that allows people like Cochran to sell their own product inside the brewery.


"Brewing is as much art as it is science"
Says Democratic State Rep. Dan Ramos from Lorain. He's working on a new bill to loosen the restriction on alcohol limits. Current law says a beer cannot have more than 12 percent alcohol by volume, or ABV. Ramos wants to raise that bar to 21 percent.

"When you're attempting to make something around a specific level it doesn't always come out the way you want it to go. So we want to allow these folks to basically continue their art form but do so in a way that helps their business."

The bill already has 20 co-sponsors, with several Republicans attached. According to Ramos, West Virginia also has a 12 percent ABV limit. But all the other states that border Ohio do not have any restrictions on beer.

"I know that there are a number of specialty and craft beer stores that are just across the border for that reason."

Cochran is a board member with the Ohio Craft Brewers Association but he says the group hasn't issued an official stance on the proposal yet. While he says he would like to take a closer look at the bill, Cochran shared his personal belief.

"Lifting on Ohio breweries and Ohio brewers is going to be beneficial is business is growing I think that whatever we can do to be able to put out products that are being produced by breweries in other states can only help us."

Taste v. content
The strongest brew at Four Strings is the special Double IPA at 9.5 percent ABV. Cochran says anything at 12 percent is already pretty strong, but he'd like to see what brewers could come up with.

"I think it's just going to be the challenge of balancing the other elements of the beer with that high alcohol to say that it can't taste good I think would be wrong—I think that higher alcohol beer can certainly be enjoyable."

Cochran adds that it's an exciting time to be a microbrewer in the state as the market continues to boom.

"I had no idea that it was going to be as fast and as big as it was—the last two years that I've been in the market it's just completely exploded."
---
---