Loading...


Ohio



Saturday, December 21, 2013




Car dealers challenging electric-car maker's license to sell in Ohio




Tesla under fire for its direct-sales plan, but says it's run into similar opposition in other states


by WKSU's KABIR BHATIA


Reporter
Kabir Bhatia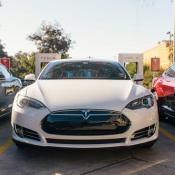 Tesla under fire for its direct-sales plan after opening a store in Columbus and announcing a second slated for Cincinnati
Courtesy of Teslamotors.com
Download (WKSU Only)
In The Region:
Ohio's new-car dealers are heading to court to stop an electric-car maker from selling directly to the public. WKSU's Kabir Bhatia reports.
The dealers had wanted the legislature to block Tesla from selling vehicles in Ohio. It was an amendment tacked on to a largely unrelated bill, and lawmakers never got around to it.
Now, the Columbus Dispatch reports the car dealers are suing to have Tesla's retail license nullified. The Department of Public Safety and the Bureau of Motor Vehicles are among the defendants.
Tesla says it's faced opposition to its direct-sales plan in other states. The company opened a store in Columbus earlier this month, with a second slated for Cincinnati. Tesla says the stores will employ 26 people and have an initial economic impact of $7 million.
---
---
---
Stories with Recent Comments