Loading...


Courts and Crime



Friday, December 20, 2013




Cuyahoga aide, the informant, Kelley sentenced to six years, $700,000




J. Kevin Kelley, the man who testified against Jimmy Dimora and Frank Russo, says he wants to move on


by WKSU's KABIR BHATIA


and

M.L. SCHULTZE



Reporter
Kabir Bhatia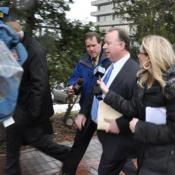 A pre-sentencing memo says J. Kevin Kelley has a heart defect, diabetes, high blood pressure, a detached retina and had unsuccessful cataract surgery; it also says Kelley has no money to pay the $705,000 in restitution
Courtesy of Mark Urycki
Download (WKSU Only)
In The Region:
J. Kevin Kelley, the last major player in the five-year Cuyahoga County corruption probe, has been sentenced to six years in prison and ordered to pay more than $705,000 in restitution.
Kelley was the key witness against former Cuyahoga County Commissioner Jimmy Dimora and Auditor Frank Russo. WKSU's Kabir Bhatia reports.

J. Kevin Kelley worked for Frank Russo, the engineer's office and was elected to the Parma school board. During that time he dealt in bribes, fraudulent taxes and lavish junkets for Russo and Jimmy Dimora.

But when FBI agents showed up at his door in 2008, Kelley began cooperating and helped build the prosecution's case. Today, four years after pleading guilty, he apologized to the community and told reporters outside the federal building in Akron that he wants to move on.

The $705,000 restitution will go mostly to Cuyahoga County, with about $90,000 each to the Parma schools and the IRS. But a pre-sentencing memo says Kelley has no money, major health problems and a drinking problem.
He asked Federal Judge Sarah Lioi to recommend he serve his six years in Florida near his wife and two daughters.

Retired University of Akron law professor Dean Carro says the judge's recommendation now goes to the Bureau of Prisons.

"And they look at a lot of different factors: your background, your health. They don't want people with serious health problems in 40 different institutions. It's not cost-effective. They have certain institutions that have a better medical care system."

Carro also notes that the bureau is unlikely to put Kelley in the same prison as the men he testified against. Dimora is in West Virginia, while Russo is in Pennsylvania.
---
---
---
Stories with Recent Comments