Loading...


Ohio



Friday, December 20, 2013




Ohio's Medicaid expansion gets the blessing of the Ohio Supreme Court




Justices rule 4-3 that the Controlling Board had the authority to expand Medicaid to 275,000 people


by WKSU's M.L. SCHULTZE


Web Editor
M.L. Schultze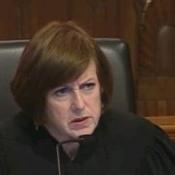 Chief Justice Maureen O'Connor wrote the 15-page decision approving the expansion.
Courtesy of FILE PHOTO
Download (WKSU Only)
In The Region:
The Ohio Supreme Court has upheld the $2.56 billion expansion of Medicaid to nearly 300,000 working poor people in the state. The 4-3 ruling said the state Controlling Board had the authority to accept the federal money to fund the expansion. Gov. John Kasich had been pushing fellow Republicans in the Legislature to OK the expansion, but they refused. So he turned to the Controlling Board, which is made up of six lawmakers and a representative of his budget office. It approved the expansion 5-2. Conservative lawmakers and Cleveland's Right to Life chapter challenged that in court. In the decision released late this afternoon, Chief Justice Maureen O'Connor said they failed to show that the Controlling Board was obligated to follow the sentiment of the lawmakers.
---
---
---
Stories with Recent Comments