Loading...


Arts and Entertainment



Thursday, December 26, 2013




It was 50 years ago today: "I Want to Hold Your Hand" released today in 1963




After a number of false starts, the band's growing popularity in Europe spurs the U.S. release of "I Want to Hold Your Hand" on a major U.S. label


by WKSU's KABIR BHATIA


Reporter
Kabir Bhatia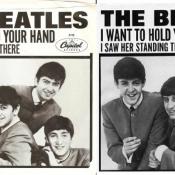 The original 1964 sleeve (right) for "I Want to Hold Your Hand" featured a cigarette in Paul McCartney's hand. When the picture was used for a commemorative reissue in 1984 (left), the smoke was airbrushed out. Sleeves printed on the west coast (right) had George's head cropped, and a thumb tab on top (similar to the reissue sleeve on the left).
Courtesy of Capitol Records
Download (WKSU Only)
In The Region:
Fifty years ago today, Capitol Records touched off Beatlemania with the release of "I Want to Hold Your Hand." WKSU's Kabir Bhatia reports.

The Beatles sold millions of records in Europe throughout 1963, but they had flopped in the U.S. after several releases on small, regional labels.

Capitol Records finally took the plunge on December 26 after hearing "I Want to Hold Your Hand." Beatles' Manager Brian Epstein had asked the group to come up with something to appeal to American ears, and his plan worked: the disk sold 10,000 copies an hour in New York City at one point and was the first of the band's 20 chart-toppers. By the time the Beatles appeared on the "Ed Sullivan Show" on February 9, "I Want to Hold Your Hand" was in the midst of a seven-week run at #1.

The Beatles were inducted into the Rock and Roll Hall of Fame in 1988, and Brian Epstein will be inducted with the class of 2014 on April 10.


---
---
---
Stories with Recent Comments