Loading...


Environment



Sunday, December 29, 2013




Report coming on how to manage Asian Carp in the Great Lakes




Army Corps of Engineers' seven-year study will look at invasive species in report due January 6


by WKSU's KABIR BHATIA


Reporter
Kabir Bhatia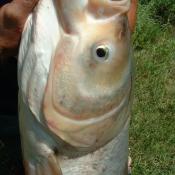 Asian Carp could most likely invade the Great Lakes through the Chicago Sanitary and Ship Canal
Courtesy of Pat Falkman
Download (WKSU Only)
A report -- seven years in the making -- on how the Great Lakes might handle the ravenous Asian Carp is coming next Monday. WKSU's Kabir Bhatia reports.
The Asian Carp could destroy the $7 billion Great Lakes fishing industry, and the Army Corps of Engineers has been studying the issue as Asian Carp DNA has been found around the lakes. The report is expected to contain eight suggestions on how to manage the spread of the invasive species. That could include permanently separating the Chicago Sanitary and Ship Canal from Lake Michigan, which is a key pathway for the carp. The report will recap extensive research but is expected to fall short of actual recommendations. One of the options most often discussed would be underwater electronic barriers on the Chicago waterway to block what's considered the most likely path to the lakes. Earlier this month, the Army Corps said the barrier could be circumvented by fish swimming in a ship's wake. Another, far more expensive option would be closing the Chicago Sanitary and Ship Canal, but opponents say that would disrupt the $1.5 billion shipping industry there. An Asian Carp has only been found beyond the barriers once -- in Lake Calumet, near Chicago.

---
---
---
Stories with Recent Comments