Loading...


Ohio



Monday, December 30, 2013




New licensing requirements greet dog breeders in 2014




Applies to those selling 60 dogs a year and breeding at least nine litters




by WKSU's ANDY CHOW



Reporter
Andy Chow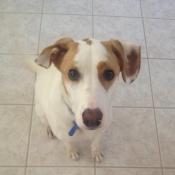 The Ohio Department of Agriculture says the new law creates standards where none existed before
Courtesy of K. Bhatia
Download (WKSU Only)
In The Region:
Dog breeders around the state must comply with a new set of state laws for 2014, including mandatory licensing. The new regulations apply to those who sell 60 dogs a year and breed at least nine litters. Erica Hawkins with the Ohio Department of Agriculture says the licenses will create and enforce care standards that were nonexistent before.

"If they're outdoors they have adequate protection and shelter from the weather—if they're indoor—the indoor facilities are properly ventilated, they have regular access to food and water, they have opportunities for socialization and for exercise regularly. All of that is new for state law."

The license also lays out standards to make sure cages are the right size and clean.
Hawkins says the department hired a new team of professionals that will inspect dog breeding operations around Ohio and make sure they're up to code.
---
---
---
Stories with Recent Comments