Loading...


Environment



Sunday, January 5, 2014




Northeast Ohio: Enjoy the weekend, then prepare for record cold




Tuesday's high is not expected to get even as far as 0


by WKSU's M.L. SCHULTZE


Web Editor
M.L. Schultze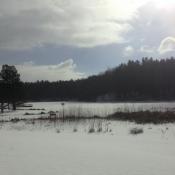 The still undisturbed snowfall over Mogodore Reservoir in southern Portage County.
Courtesy of M.L. SCHULTZE
Download (WKSU Only)
In The Region:
Ohio, like much of the rest of the Midwest and East Coast, is getting socked by first snow and then record cold. Tonight's low drops down to 6 degrees, but with a wind chill, it'll feel more like -11. Saturday will give us a bit of a breather with mostly sunny skies and a high near 29. But snow moves in again on Sunday, with the high near 32 and then tailing off dramatically. By Tuesday, the high is expected to be -1 degree, and Tuesday night's low is expected to drop to 10 below.
---
---
---
Stories with Recent Comments