Loading...


Economy and Business



Friday, January 3, 2014




Lordstown-built Chevy Cruze sees December sales drop, but yearly sales jump




Despite a 14.5 percent decrease in December sales, 2013 saw 10,466 more Cruze's sold than in 2012


by WKSU's KABIR BHATIA


Reporter
Kabir Bhatia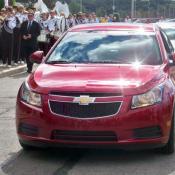 GM continues investing in the Lordstown plant, built in 1966 for production of the full-size Chevy Impala-Bel Air-Caprice line.
Courtesy of Jeff St. Clair
Download (WKSU Only)
In The Region:
The Lordstown-built Chevy Cruze had a good year in 2013, with sales up by more than 10,000 vehicles over 2012. That comes despite a 14.5-percent drop in December sales. Auto analyst Michelle Krebs with Edmunds.com says the month is traditionally a slow one for small cars.
"December's a big month for SUVs, pickups trucks and luxury cars. There are tax reasons to get in at the end of the year for luxury cars and trucks. And I think some of these bad weather conditions that have been happening all over the country have pushed people to SUVs and crossovers. Small cars make a comeback in the spring; that's their season."

The Chevy Cruze added more than 3,000 jobs to the once nearly idled plant near Youngstown. GM invested $5.5 million to add production of a turbo-diesel version of the compact car last year, and has already pledged to bring the next-generation Cruze to the plant. UAW officials say Lordstown was running at capacity all year, with a scheduled week off scrapped to meet demand.
---
---
---
Stories with Recent Comments