Loading...


Ohio



Monday, January 6, 2014




Sherrod Brown urges Republicans to vote for unemployment extension




Senator says expiration of 2008 extension of long-term benefits will impact 128,000 Ohioans


by WKSU's KABIR BHATIA


Reporter
Kabir Bhatia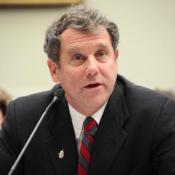 Brown says the expiration of the 2008 extension of long-term benefits will cost the state 240,000 jobs due to the multiplier effect
Courtesy of WKSU
Download (WKSU Only)
In The Region:
A vote is scheduled today to extend long-term unemployment benefits, and Ohio's Democratic senator, Sherrod Brown, is calling on Republicans to vote for the plan that impacts almost 130,000 Ohioans. WKSU's Kabir Bhatia reports.
Cuts to extended federal unemployment benefits took effect December 28, rolling back the 26 extra weeks that were enacted by Congress and President George W. Bush during the 2008 recession.

Now, a vote is scheduled to enact a three-month extension, and Sherrod Brown joined other Senate Democrats Sunday to emphasize that 1.3 million Americans will be impacted if the extension is not passed. Brown also says Ohio will lose 240,000 jobs this year if unemployment insurance is not extended.

"They're spending their money at grocery stores and hardware stores and getting their cars fixed at the local auto repair shop so they can go out and look for work. That puts money in the economy. It generates more economic activity and people will spend that money in a community creating jobs."

Brown was joined on the conference call by Sen. Chuck Schumer of New York, who said blocking the extended unemployment benefits would place Republicans "far out of the mainstream."

The cuts are part of a budget deal struck last month. House Speaker John Boehner says he's open to bringing the extension back, if the money can be made up by cuts to other parts of government.

A poll from liberal-leaning Public Policy Polling shows that about two-thirds of voters in five key swing districts approve of the extension. That includes John Boehner's southwest Ohio district. The poll also showed voters in those districts were less likely to re-elect Republican incumbents who were for the cuts.
---
---
---
Stories with Recent Comments