Loading...


Environment



Monday, January 6, 2014




UPDATED: Overview of NE Ohio closings linked to the cold




Zoos, parks, city halls and courts are among the casualties


by WKSU's M.L. SCHULTZE


Web Editor
M.L. Schultze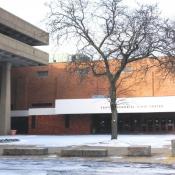 Canton has set up a temporary overnight shelter at its Civic Center. Akron and Cleveland have set up dozens of day-time shelters.
Courtesy of TIM RUDELL
Download (WKSU Only)
In The Region:
UPDATED: Kent State's regional campuses, as well as the main campus, will be closed tomorrow.

UPDATED: Cuyahoga County government has added its name to the list of tomorrow's closings.

The list of closings linked to today's plummeting temperatures now includes both northeast Ohio zoos, the rock hall and the offices and welcome center at the Cuyahoga Valley National Park. Despite the offices closing, the national park technically remains open. But visitors are urged to take extra precautions because of temperatures near zero and a wind-chill making it feel much colder than that.. The Cleveland Zoo decided to close at 3 this afternoon, hours after its Akron counterpart had already decided to call things off for today and tomorrow. The weather has cancelled council meetings for both Akron and Canton tonight, though Frank Jackson was sworn in to a third term as Cleveland's mayor this morning as expected. Courthouses in Cleveland – including the Cuyahoga County Common Pleas Court -- Akron and Stow are closed tomorrow. Kent State's main campus also is closed until 6 p.m. Tuesday. Ski resorts, the Horseshoe Casino and the Cleveland Museum of Art were among the first to close in anticipation of the cold, as was just about every school in Northeast Ohio.
---
---
---
Stories with Recent Comments