Loading...


Sports



Tuesday, January 7, 2014




Cavs make big trade in hopes to still make the playoffs




Struggling Cavs unload Bynum, get small forward Deng from Bulls


by WKSU's AMANDA RABINOWITZ


Morning Edition Host
Amanda Rabinowitz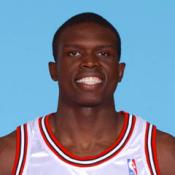 Deng, 28, is averaging 19 points, 6.9 rebounds and 3.7 assists this season. He is making $14.3 million in the final year of his deal.
Download (WKSU Only)
The struggling Cleveland Cavaliers have made a huge trade in hopes to make a playoff run this year. The Cavs late Monday acquired two-time All-Star Luol Deng from the Chicago Bulls in exchange for center Andrew Bynum and three future draft picks. Deng is a small forward who becomes a free agent this summer. WKSU commentator Terry Pluto says the Cavs have had the worst small forwards in the league since LeBron James left in 2010.
"Luol Deng is among the top 25 percent small forwards. He can rebound, he can shoot from the outside and he's good defensively. Now, it's not like LeBron – your eyes don't pop out, you don't scream and jump up and down every time he gets the ball. But at the end of the game, you look at the box score…he's got 16 points, he's got 6 rebounds, he's played really well and he's made his team better. And boy have the Cavs needed that," Pluto said.
The Cavs suspended Bynum for conduct detrimental to the team after an incident during practice. By trading for Bynum this week, the Bulls are able to release him and escape paying the remaining $6.3 million left on his 2013-14 salary. With a payroll approaching $80 million, the Bulls were well over the $71.7 million luxury-tax threshold before the move. Once Bynum is released, the Bulls will be able to get under the tax line.

Pluto says despite the Cavs 11-23 record, they sit just three games out of the playoffs midway through the season because of a very weak Eastern Conference.
---
---
---
Stories with Recent Comments