Loading...


People



Thursday, January 9, 2014




Brimfield police chief is a Facebook star, and now an author




Brimfield Police Chief David Oliver has gotten international press coverage for his Facebook posts on everything from marijuana legalization to escaped cattle to Kanye West. Now, his new book, "No Mopes Allowed," is selling well


by WKSU's KABIR BHATIA


Reporter
Kabir Bhatia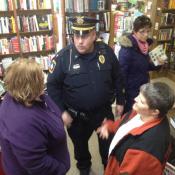 Chief David Oliver has gotten international press coverage for his Facebook posts on everything from marijuana legalization to escaped cattle to Kanye West. Here he greets fans at a recent book signing at The Learned Owl in Hudson
Courtesy of K. Bhatia
Download (WKSU Only)
In The Region:
A small-town, Northeast Ohio police chief has taken on meth-runners, escaped llamas and even Kanye West, and he's done it on the second-most popular police Facebook page in the country. Now, Brimfield Police Chief David Oliver can add "published author" to his resume, as WKSU's Kabir Bhatia reports.
Remember "The Andy Griffith Show"? Mayberry's Sheriff Taylor had a few small crises to handle each week, and he did it with fairness, good humor and a smile. But Mayberry never had meth labs to bust like in Northeast Ohio. Then again, Mayberry never had Facebook, either.


These days, Brimfield might be on its way to becoming the new Mayberry, thanks to the online posts by Chief David Oliver.

"We're kind of simple. I've kind of compared it to a bunch of people sitting on the front porch, sipping lemonade, and talking about whatever comes to their mind."

The 20-year veteran of the department sips virtual lemonade with the world from his small town of 10,000 people, south of Kent.

Growing up in inner-city Akron
He says humor has come naturally to him since childhood.

"I grew up very poor; I didn't have great clothing. I wanted to have the attention on me, but not for the wrong reasons. So I kind of grew up the comedian. No matter what I wore to school, or what my situation was, economically, people thought I was funny."

Today, more than 136,000 people think he's funny and interesting. All those fans – who he calls "Crazy Cousins" – have made Brimfield's Facebook page second only to the NYPD in number of likes. New York City, by the way, has almost 800-times the population of Brimfield.

From posting to print
The Facebook page is what landed Oliver, a father of four and an avid reader, a book deal last year.


"As it grew in popularity, Gray & Company Publishing reached out to us and asked if we'd like to write a book. I was kind of floored, and then we met, and it spiraled into this. It's been fantastic."

His book came out in October and has been selling well according to Gray & Co. The publisher says it's already shipped copies everywhere from Cleveland to Korea to Kuala Lumpur. The title - "No Mopes Allowed" - references his term for the troublemakers he deals with daily. On Facebook, he'll even refer to his department as "Mope Busters HQ" or "The Mope-K Corral" when posting about criminals in his town – human or otherwise.

"We do get an occasional pig loose, or llama loose, or horse or cattle in the roadway."

Police work made fun
He may be writing about animals one day, meth dealers the next and bike thieves after that. The Crazy Cousins say he does a good job humanizing his department without trivializing it. Lori Owens from Bradner, near Toledo, recently came all the way to Hudson for a book signing by the chief. She's a teacher, and she checks the Brimfield PD page during her first break every morning.

"He can be talking about his tiny little town and it goes with my tiny little town."

One of a kind posts
Jan Leach is a former crime reporter and a professor at Kent State's School of Journalism.

"Frankly, he is pretty funny. He's pretty upright. The stuff is short. It's easy to read. He brings a real personal touch, he brings a voice, he brings a personality. So I think he's done a wonderful job of that."

Leach does warn that, in social media, the fine line between trivializing and humanizing can also have legal ramifications.

"Be careful that the voice is authentic, that what you say is real, and you don't get into any kind of area where you could affect the outcome of an actual case."

Naming names
Oliver's been able to follow that advice, for the most part. But he did take on Kanye West recently. In an interview, the rapper compared his own on-stage stunts to the dangers of police work. Oliver shot back, saying the only time he could be compared to a rapper is when he sings along with Vanilla Ice. The post got international press coverage.

But regardless of the topic, Chief Oliver writes in a folksy style that makes his fans feel they know him really well. Sometimes, too well.


"Some of the arrests we make, when they're really drunk, they will say, 'I'm friends with the chief on Facebook. Can you call him?' And at 2 o'clock in the morning, my guys will say, 'No, we won't be calling the chief. You can call him tomorrow morning when he comes into work.'"

When asked if that's ever worked for anybody, Chief Oliver simply says, "No."
---
---
---
Stories with Recent Comments