Loading...


Environment



Wednesday, January 8, 2014




Drillers lay out their case for a lower severance tax than Kasich wanted




They say it will keep Ohio's natural gas industry growing




by WKSU's ANDY CHOW



Reporter
Andy Chow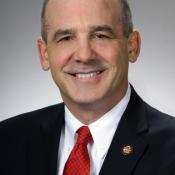 State Rep. Matt Huffman says his tax bill hits the right balance.
Courtesy of State of Ohio
Download (WKSU Only)
In The Region:
The natural gas industry is lobbying for a bill that would increase the severance tax on oil and gas, but less than Gov. John Kasich had proposed. Republican Rep. Matt Huffman of Lima says his bill would generate about $1.7 billion in new revenue over 10 years.

Tom Stewart, executive vice president for the Ohio Oil and Gas Association, was one of the supporters to testify before a House panel today . He says the increase would benefit the state while encouraging development. Stewart believes all Ohioans should support the continued drilling growth.

As temperatures plunged, he says natural gas prices skyrocketed in other states to the east while Ohio's stayed low.
"Here we are at 5 degrees below zero across the state of Ohio but nobody ran out of natural gas. Matter of fact, supplies kept flowing to the consumer at a very affordable rate. If you were living in New York City, natural gas cash prices during that cold period snapped up to as high as $90."
Revenue from the tax would fund the state's regulatory framework, close up abandoned wells, and pay into the Income Tax Reduction Fund.
---
---
---
Stories with Recent Comments