Loading...


Environment



Thursday, January 9, 2014




After a bumper year, Ohio grape growers could see severe damage




Vineyards are still assessing the losses from this week's cold, and water main breaks and other problems linger




Story by

GRACE MURRAY AND M.L. SCHULTZE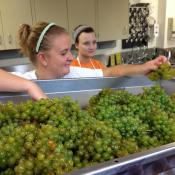 Grad student Lisa Robbins works with grapes at the research center in Wooster. Ohio saw a bumper crop last year, but this week's freeze has done extensive damage.
Courtesy of JEFF ST. CLAIR
Download (WKSU Only)
In The Region:
Temperatures are recovering, and even climbing into the 40s tomorrow . But some of the damage from this week's severe cold is longer lasting. Water main breaks – including a major one in North Olmstead – have flooded streets. Avon Lake's water system was disrupted by a frozen Lake Erie. And Ohio's grape growers say they have suffered at least $3 million in damage to grapes and vines. The Ohio Wine Producers Association says cold killed about 90 percent of the buds for Chardonnays, Pinot Noirs and Pinot Gris Lee Klingshirn says he's still not certain of the extent of damage at his winery near Avon Lake.
"The jury is out. You don't really know until things have warmed up a little bit. They've come out of the deep freeze. The fruit of next year has definitely shown some effect, and as far as the vines themselves, I anticipate we will see some severe vine damage."
The strong winds Monday night, coupled with the cold, limited what the growers could do with machines to keep the vines protected.
Last year was a record one for Ohio grape growers.
---
---
Stories with Recent Comments