Loading...



From WKYC.COM / TV 3
Get the latest school closings and delays


Funding for WKSU is made possible in part through support from the following businesses and organizations.
---
For more information on how your company or organization can support WKSU, download the WKSU Media Kit.

(WKSU Media Kit


)
---

Arts and Entertainment



Friday, January 10, 2014




It was 50 years ago today: First Beatles LP released in America




And it wasn't the huge-selling "Meet The Beatles!" but the more moderately received "Introducing the Beatles" on a small, independent label


by WKSU's KABIR BHATIA


Reporter
Kabir Bhatia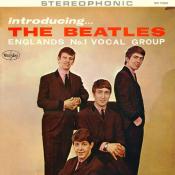 "Introducing the Beatles" featured 12 of the 14 songs from the Beatles' first British album, "Please Please Me."
Download (WKSU Only)
In The Region:
Fifty years ago today, Beatlemania was in full swing as the group's first LP was released in the States. But it's probably not the album you're thinking of.
Chicago's Vee-Jay Records released two flop singles by the Beatles in 1963. That year, money troubles caused the small R&B label to cancel an album by the group at the last minute.
But by January of '64, "I Want to Hold Your Hand" was a smash hit, so Vee-Jay rush-released the LP "Introducing the Beatles," pre-dating Capitol Records' "Meet the Beatles" by 10 days.
Legal action followed, and Vee-Jay pressed albums on weekends between injunctions. The label eventually lost its rights to the Beatles in late '64, and went out of business in 1966.
Thousands of counterfeit copies of "Introducing the Beatles" followed, but one sign that you might have an original is that George Harrison casts distinct shadow on the front cover of legit copies. Compare and contrast:


---
---