Loading...


Ohio



Thursday, January 9, 2014




Avon Lake looking to prevent repeat of frozen water grates




More than 200,000 people could have lost water service thanks to "frazzle ice" blocking intake from Lake Erie


by WKSU's KABIR BHATIA


Reporter
Kabir Bhatia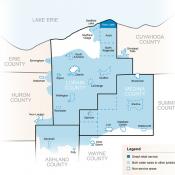 Avon Lake's water system actually covers large portions of Lorain, Medina and Ashland counties
Courtesy of Avon Lake
Download (WKSU Only)
In The Region:
Now that crews have restored water flow to more than 200,000 people from a frozen Lake Erie, the Avon Lake utility plans to look at ways to prevent such water shortages in the future. WKSU's Kabir Bhatia reports.
Water service was cut in most of Lorain and Medina counties, along with parts of Wayne and Ashland after four intake grates on the lake froze over. Todd Danielson with the Avon Lake utility says such an event is rare, with the last one occurring about five years ago. This time, crews worked for 36 hours straight to fix the issue, and once things are back to normal, Danielson expects to look at ways to prevent such problems.

"It happens with the right weather conditions and the right lake conditions where the cold can go right down to the bottom of the lake and form these slushy like conditions where the intake grates are. We're looking to say, 'What is the likelihood of this happening?' Obviously, once is too much. Whatever we can do to reduce the chances of this happening again, we are going to look into."

Although the obstruction – a slushy mix known as "frazzle ice" -- has been cleared, Medina and the rural Lorain County Water Authority are still under boil alerts for the next few days.
---
---
---
Stories with Recent Comments