Loading...


Ohio



Thursday, January 9, 2014




Westlake mayor back in court over Cleveland v. Avon Lake water supplies




Mayor Clough wants to use both water supplies, but Cleveland says residents must pay about $300 each quarter to fund system upgrades over the past 23 years


by WKSU's KABIR BHATIA


Reporter
Kabir Bhatia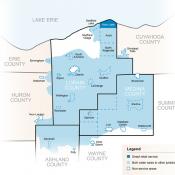 Avon Lake's water system covers more than 200,000 people in Lorain, Medina and Ashland counties
Courtesy of Avon Lake
Download (WKSU Only)
In The Region:
Westlake Mayor Dennis Clough is back in court this week, testifying in his city's dispute with the Cleveland Water Department. The fight started when Westlake considered shifting its water business to Avon Lake. Cleveland said if it did that, Westlake customers would have to pay fees ranging from about $300 a quarter for residents to more than $5,000 for large commercial customers to cover the cost of infrastructure upgrades in Westlake over the past two decades. Since then, Clough has said he wants to use both Avon Lake AND Cleveland, with multiple connections to both. Todd Danielson, with Avon Lake Municipal Utilities, says this is standard operating procedure for many cities, which is why this week's water shortage from a frozen Lake Erie didn't turn into a water outage.
"What really helped was that they had multiple connections. So in this particular situation, we were not able to provide all the water that we wanted to provide to our customers. But in other situations, maybe another utility might have. So these multiple connections are what help assure the water can always flow."

Westlake customers provide about $6 million of Cleveland's water revenue, and the contract between the two sides is up next year.
---
---
---
Stories with Recent Comments