Loading...



From WKYC.COM / TV 3
Get the latest school closings and delays


Funding for WKSU is made possible in part through support from the following businesses and organizations.
---
For more information on how your company or organization can support WKSU, download the WKSU Media Kit.

(WKSU Media Kit


)
---

Ohio



Friday, January 10, 2014




"Where's the Beef?" after 30 years




On January 10, 1984, Columbus-based Wendy's unveiled a new ad campaign which spawned a national catchphrase


by WKSU's KABIR BHATIA


Reporter
Kabir Bhatia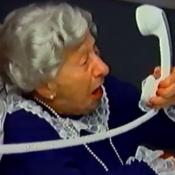 Clara Peller yelled her national catchphrase into the history books in three spots that began airing on this date in 1984
Courtesy of Wendy's
Download (WKSU Only)
In The Region:
Thirty years ago today, Wendy's unveiled a new slogan which would catapult the Columbus-based company from growing hamburger chain to a factor in the 1984 presidential election. WKSU's Kabir Bhatia reports.
Clara Peller was 81-years-old when she began starring in ads for Wendy's, shouting "Where's the Beef?" They were supposed to point out competitors' use of frozen burger patties. But within a few months, Democratic presidential candidate Walter Mondale was even quoting the commercials in response to opponent, Gary Hart.

"When I hear your ideas, I'm reminded of that ad, 'Where's the Beef?'"

Peller eventually appeared in ads for Prego spaghetti sauce claiming to have found the beef. Wendy's was not pleased and terminated the campaign. After that, the chain experienced a two-year sales slump. Peller died in 1987.



---
---