Loading...


Education



Friday, January 10, 2014




Akron schools discover cold-weather problems with new buildings




Severe cold surfaces some problems


by WKSU's JEFF ST. CLAIR


and

MARK URYCKI



Reporter / Host
Jeff St. Clair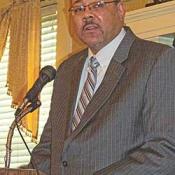 Akron schools chief David James says this week's cold snap revealed some problems that could not have been anticipated.
Courtesy of Akron Press Club, file photo
Download (WKSU Only)
In The Region:
Despite today's balmy temperatures, headaches continue for businesses, utilities and schools caught by this week's cold snap. Akron schools Superintendent David James says water sprinkler pipes broke in some of the district's new buildings and in its bus garage. James says the deep freeze revealed hard to predict flaws in the newer buildings.
"You know it's going to happen. You just don't know when. There are some prudent measures you can take, but particularly for our new buildings -- because some of them are so new -- you don't know how they're going to react to very severe cold, which we really haven't had a lot of. This one of the first really subzero and then you have those wind chills at 30-40 below."
Akron schools lost three days this week due to the cold.
---
---
---
Stories with Recent Comments