Loading...


Environment



Monday, January 13, 2014




Bobcat numbers on the rise in Ohio




After 40 years, the elusive, long-limbed cat could soon be taken off the endangered species list


by WKSU's JEFF ST. CLAIR


Reporter / Host
Jeff St. Clair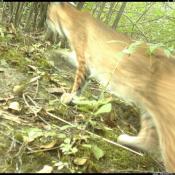 A quick glimpse of a stealthy bobcat is usually all you get. The secretive cat was driven out of Ohio by 1850, but since the 1970's has made a slow and steady recovery. Wildlife experts estimate around 1,000 of the cats currently live in the Buckeye State.
Courtesy of USFWS
Download (WKSU Only)
In The Region:
The secretive bobcat is bouncing back in Ohio. Biologists with the Ohio Department of Natural Resources say the cat's numbers have increased to the point that they are no longer in danger of extinction. After nearly 40 years of being listed as 'endangered,' the bobcat was moved to 'threatened' in 2012, and this spring could be taken off the list altogether. Research biologist Suzie Prange says the state's roughly 1,000 bobcats are thriving in southeast Ohio.
"But they're also pushing into less favorable habitat in the northeast and the western part of the state. We're starting to get nuisance complaints of them depredating poultry, and we're also getting orphan bobcats in the spring and summer. So there are all signs that there's a substantial population out there now."
Prange says although the species may soon be taken off the list, they're still protected and it is illegal to hunt or trap bobcats in Ohio.

Bobcats were driven out of Ohio by the 1850's through excessive hunting and trapping. They were one of the first animals placed on the original endangered species list in 1974.
---
---
---
Stories with Recent Comments