Loading...


Environment



Monday, January 13, 2014




Frozen, swollen Chagrin River may not be back to normal for a few days




Metropark closures and voluntary evacuations in Willoughby and Eastlake


by WKSU's KABIR BHATIA


Reporter
Kabir Bhatia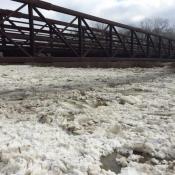 The Chagrin River Park -- once re-opened -- provided a spectacular view of the ice that's brought the river to a standstill
Courtesy of K. Bhatia
Download (WKSU Only)
In The Region:
The swollen Chagrin River is returning to normal after a weekend of flood concerns and near-evacuations. WKSU's Kabir Bhatia reports on the winter spectacle Northeast Ohioans got to see in Eastlake.
"Mother Nature – she can be brutal. And she wins every time."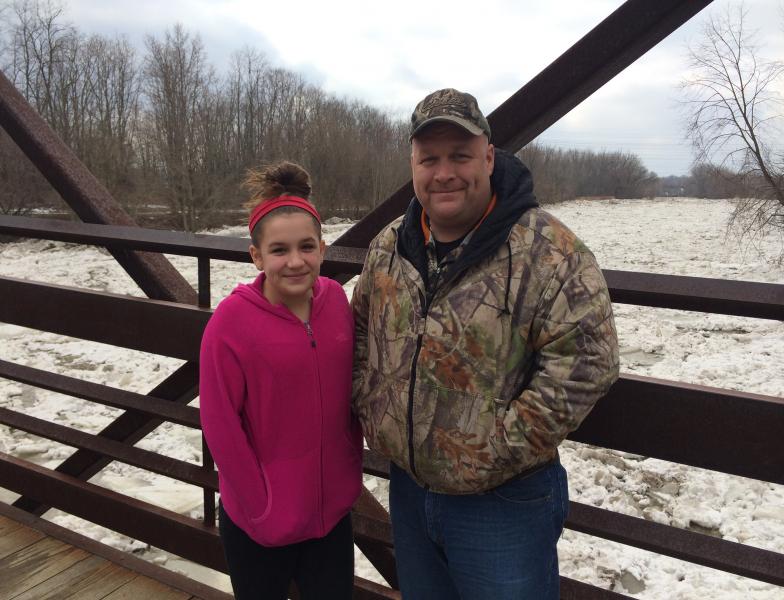 Todd Vogler has lived near the Chagrin River MetroPark for about 16 years. The avid outdoorsman usually comes to relax and enjoy the scenery. On Sunday, high temperatures melted snow which, combined with rain, produced an ice jumble that choked the river to a standstill with jagged ice flows sticking out. It also flooded a picnic area.

"The field out there is a little bit like a pond, and we haven't seen that ever. Normally we see deer and turkey through here but even they are bedded down. They're swamped, so they're finding higher ground."

A unprecedented view
Vogler was on the pedestrian bridge in the park, which straddles Eastlake and Willoughby. Officials closed the park on Saturday, just as Deanna Rizer of Kirtland was leaving. She returned Sunday morning, when the bridge near Reeves Road was the first spot to re-open.

"This is something we may not ever get to see again. The whole river is frozen and overflowing into the grass. It's kind of amazing. If we get a couple days of rain, sometimes it might come up and make a little pond in a couple spots. But this could be a disaster once it melts."

It's a similar situation to 1994, but not nearly as severe. Eastlake Fire Lt. Doug Drake remembers it well.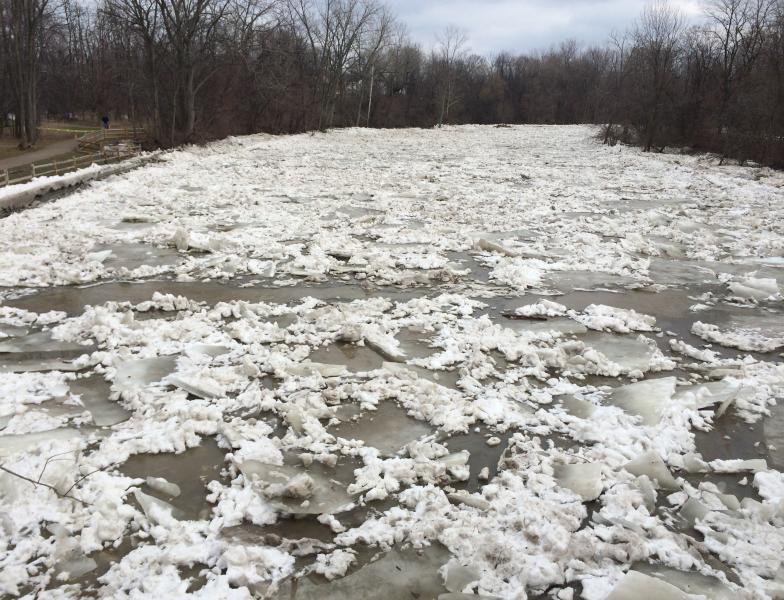 "Back 20 years ago, there was a large chunk of ice – from a deep freeze – that did rise and flow down the river and went up over East Island and up in the back yard of one of the houses up there."

He says that did not happen over the weekend, because the river is less susceptible to such an incident today.

"Part of the change in our river is that the Willoughby Dam is now open. Now the river flows a little bit different. They do dredging now [so] there's a lot more ability for water to flow under the ice. That helps with our circumstances as well."

More mild weather on the way
Diane Sypniewski of Mentor says a new concrete retaining wall also has helped.

"We walk down here all the time. We've been down here in the winter and in the spring floods. And I've never seen it pushed that high up."

The wall slowed the water, but could not contain it, according to Dave Baioni of Euclid. He estimates the river had spilled over its banks aobut 30 feet in each direction.

"It looks wider up here. It's not; that's the ice block. This is where it's blocked up the most [because] just north of Lakeshore Boulevard, you can see the river flowing more."

The ice melted and flooding subsided a bit on Sunday, but with milder weather coming this afternoon, Channel 3 meteorologist Bruce Kalinowski says Northeast Ohio should still be on alert.

"You'll have a jam, it'll break lose and move downstream and then jam up again. That causes a new area of flooding that wasn't there before. So it's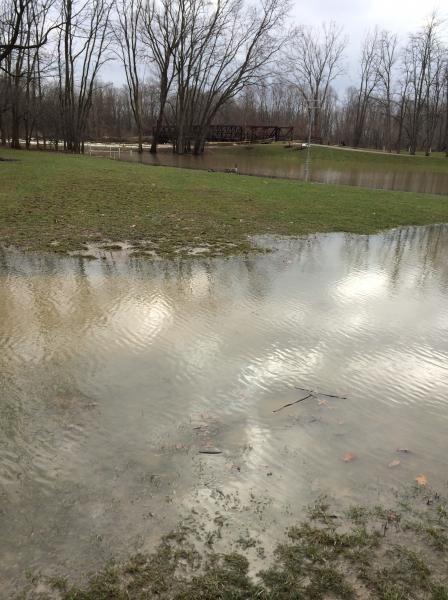 something you have to monitor very carefully until either the rivers thaw out completely and have a free flow of water, or they freeze up completely and everything is pretty much still."

Metroparks officials have been re-opening parts of Chagrin River Park. No one was ordered to leave in Willoughby or Eastlake over the weekend, although some residents left voluntarily.
---
---
---
Stories with Recent Comments