Loading...


People



Monday, January 13, 2014




March against deportation is looking for a miracle




The 20-mile trek through Cleveland will end at St. Casimir Church, and is intended to bring attention to families who become separated due to deportation


by WKSU's KABIR BHATIA


Reporter
Kabir Bhatia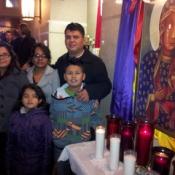 The march brings attention to Ricardo Ramos (right), whom HOLA director Veronica Dahlberg says personifies the many immigrant families separated by deportation
Courtesy of Veronica Dahlberg, HOLA
Download (WKSU Only)
In The Region:
A Northeast Ohio Latino advocacy group is marching 20-miles today to bring attention to the plight of families separated by deportation.

The group HOLA is organizing the march for undocumented immigrant Ricardo Ramos, a father of three who was told he has to return to Mexico this Thursday after he was found driving without a license and referred to immigration. Ramos has lived in the U.S. for 16 years and worked at nurseries and in restaurants.

HOLA Executive Director Veronica Dahlberg says the trek will end at St. Casimir Church, where the group will pray to the Polish Madonna -- Our Lady of Czestochowa -- for a miracle.
"We are tired of these family separations. There's something very, very wrong going on with our government right now when they start taking so many fathers away from their children. And we feel the elected officials are not hearing us. They're completely in a bubble on this issue."

Parishioners credit the Polish Madonna with St. Casimir's re-opening in 2012, three years after it was closed by the Cleveland Catholic Diocese. The march starts at 7:30 this morning at Great Lakes Mall in Mentor, and will follow Route 20 and Euclid Avenue to East 79th Street, then head north to St. Casimir.
---
---
---
Stories with Recent Comments