"Hello, my name is Ray, how may I help you?"
This is one of dozens of counselors at the United Way of Greater Cleveland's 211 hotline facility. It provides help with things like utility shutoffs and tax preparation -- and for domestic violence.
"Are you being court ordered, if you don't mind me asking, to take anger management or is this something you're seeking for yourselves?"
Most calls for help come from Cleveland
Fewer than 40 percent of all the calls are from the suburbs. The rest come from the City of Cleveland. When it comes to domestic violence, some suburbanites won't call because they're embarrassed.
"I was living in a little suburb, and, you know, domestic violence isn't the typical thing you find next door, at least I thought it wasn't"
About a year ago in suburban Cleveland, this woman, Vicky (she asked us not to use her real name) was hospitalized with broken ribs and other injuries after the man she'd been living with for years beat her up in front of their kids. It was the worst in a series of escalating incidents.
Stigma prevents many suburbanites from seeking help
"Things were thrown at me and holes were punched in walls and a lot of verbal abuse. I was afraid to tell anybody, I was afraid people would think it was my fault, or that people in my community won't think I was part of the community anymore. And I noticed a lot of friends, a lot of women, a lot of people in my community probably wouldn't reach out and ask for help in a circumstance like that. And I was really afraid to do so."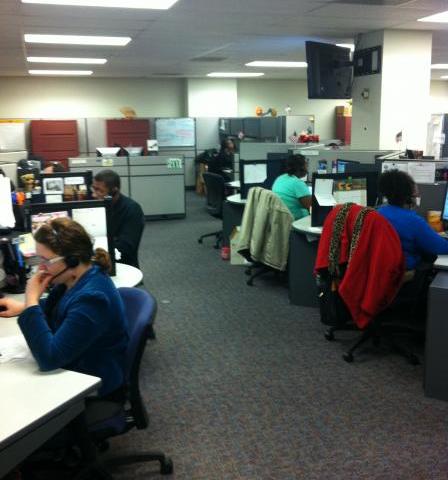 That's what the United Way is trying is to change with its suburban outreach program. Hotline director Diane Gatto.
"What we're trying to do is make sure that when we're out in the community, especially the suburbs, is that we're going to reach out and talk about how this program can actually apply to you. Right now, I think we're serving one subset of the population, and we want to wrap our arms around the whole set."
Victims and abusers need immediate help to break violence cycle
When domestic violence calls come in, many callers are connected with "Front Line," an agency that figures out how much help someone needs and where they can get it. Rosemary Creeden is the agency's associate director of trauma services. She says it's crucial that everyone involved, especially children, get counseling as quickly as possible.
"We continue to not understand the level of shame associated with domestic violence. And, what we know is that women don't even contact the police, no matter where they are -- the cities or the suburbs -- until after the sixth incident. I think in the suburbs, there is a lot of resistance. It's very embarrassing to have the police at your door, in your driveway month after month, several times a year. It's embarrassing for the children, especially adolescents. I think there's a lot of violence that occurs in the suburbs that isn't reported."
Victims need to understand that they aren't alone
Vicky didn't want to report her abuse. But eventually she had to go to the hospital and the doctors alerted police. Her case went into the legal system, and the court gave her information on a domestic violence support group. There, she met another victim who lived just across the street from her. She realized she wasn't alone, and that motivated her to seek other help for herself and her kids who witnessed the violence.
"One big thing that I discovered is that nobody is going to come knocking on my door and give me the resources, I had to go out and look for them myself. And once I called one hotline, I got, like, 10 different resources: what to do with the kids, legal help, a place to stay if I needed it. One phone call made such a big difference in my life.
"I didn't know these phone numbers existed in my community. I thought I'd have to drive out to Cleveland or some big city to find this type of aid. I was surprised to find so much in my own backyard that I never knew existed before."

The United Way's suburban outreach is an effort to make sure people like Vicky know that's not the case.