Loading...


Sports



Tuesday, January 14, 2014




Cuyahoga council takes a first look at a sin tax extension tonight




Voters in May may decide whether the tax on cigarettes and alcohol goes on another 20 years


by WKSU's M.L. SCHULTZE


Web Editor
M.L. Schultze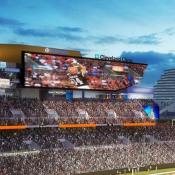 The Browns are looking for upgrades including a high-tech scoreboard.
Courtesy of Cleveland Browns
Download (WKSU Only)
In The Region:
Tonight, Cuyahoga County Council will begin formally debating whether to extend the county's sin tax for another 20 years to pay for upkeep of FirstEnergy Stadium, Progressive Field and Quicken Loans Arena. Two more meetings will be held next Tuesday and on Jan. 28 before council votes on whether to put the extension on the May ballot. Voters first passed the 15-year tax on alcohol and cigarettes in 1990. The money built the ballpark for the Indians and arena for the Cavs, as well as two parking garages. In 1995, voters extended that for 10 more years to renovate the old Cleveland Municipal Stadium. Instead, the money went toward building the new football stadium for the returning Browns. Cleveland Mayor Frank Jackson is pushing for the extension, as are the Browns, who are looking for $120 million in renovations at FirstEnergy Stadium. Cleveland.com is reporting that the extension may also pay for a new roof at Quicken Loans.

The Cuyahoga council meeting is streamed live, beginning at 5 p.m.
---
---
---
Stories with Recent Comments