Loading...





Tuesday, January 14, 2014




Steel pipe maker may expand in Youngstown




Business has been boosted by the shale drilling boom in Ohio and neighboring states


by WKSU's TIM RUDELL


Reporter
Tim Rudell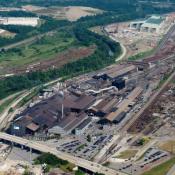 Vallourec's integrate industrial complex in the old Briar Hill and Ohio Works areas along the Mahoning River
Courtesy of Vallourec Star web site
Download (WKSU Only)
In The Region:
Things may be getting busier still in the old industrial corridor north of Youngstown. Steel pipe maker Vallourec Star is thinking about adding an $80-million operation to the $1.2-billion array of new mills and equipment it's brought on line there in the past three years. WKSU's Tim Rudell Reports.
On the table
Youngstown Mayor John McNally says Vallourec is actively considering a tax abatement proposal for a steel pipe threading facility it would build near its mill off
Martin Luther King Boulevard. The operation would employ eighty four people full-time and have an annual payroll of roughly three-million-dollars. "The ten-year tax abatement at seventy five percent is worth about six million dollars in property tax savings to the company. And they would continue to pay about two million dollars in property taxes. I believe our Youngstown City Council is firmly behind the tax abatement and further developments on the 422 corridor"
Decisions
Council is expected to take up the abatement issue during this week's regular session. A final decision from Vallourec on the project is expected by spring.
---
---
---
Stories with Recent Comments