Two weeks ago, Robinson Memorial formally went from being a county hospital to being a nonprofit hospital. That set the stage for the latest announcement – a letter of intent with University Hospitals to join its network. The deal is expected to be finalized by May, and may mirror those UH reached with hospitals in Parma and Elyria Jan. 1.
University Hospitals CEO Thomas Zenty says such mergers are rapidly increasing in Ohio and nationwide.
"About half of the hospitals today in the United States are in systems, and the majority of people who are in leadership roles in free-standing hospitals have said that in the next three to five years, they would like to become part of a system as well."
Zenty says the reasons range from economies of scale for purchases and services to electronic records.
Stephen Colecchi – the CEO of Robinson -- says those all were factors for his hospital in considering the merger. But Robinson had one other consideration.
"It's pretty difficult for a smaller community hospital to recruit primary- care and other physicians. So UH has a thousand residents and fellows and has been very successful at placing many of those physicians at the main campus or the community hospitals. "
Colecchi says the merger with UH was key in keeping Robinson a full-service hospital. Robinson has 117 beds and has outpatient clinics throughout Portage County. UH is the second largest employer in Northeast Ohio.
Robinson has had other partnership agreements with Summa and with Akron Children's Hospital. Colecchi says it's not clear yet what will happen with those arrangements.


Here's more from the Q&A with Colecchi and Zenty:
Other options:

Windows Media
/

MP3 Download
(4:44)
Steve Colecchi was born at the hospital he manages in rural Portage County, and has been general counsel and then president there for nearly three decades.
Tom Zenty has helped manage some of the largest healthcare systems in the country, and come March, he'll have been CEO of Northeast Ohio's second-largest employer for 11 years.
Despite the contrasts, the two are in sync as they sit in a room talking about the merger of their two institutions. They say such mergers happening much more frequently because they're simply necessary.
Colecchi dives in first.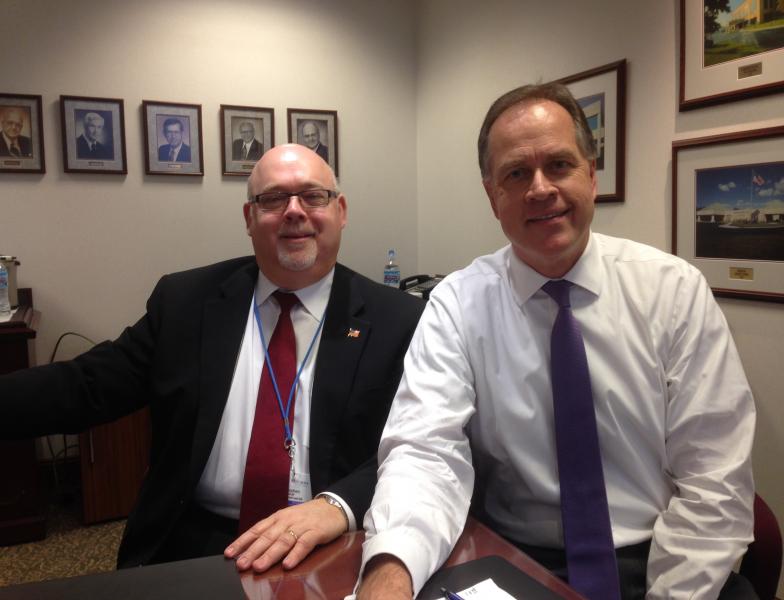 "Unfortunately, the days of the smaller independent community hospital is over. Many of the changes that are occurring in health care, some attributable to the Affordable Care Act, is making it difficult to survive long term."
"If you've been following what's been going on around the country, mergers and acquisitions like this are at an all-time high as the community hospitals seek to partner with the larger system."
Markets and savings
Zenty agrees.
"If you take a look at what's happening nationally, fewer and fewer hospitals are going to be able to be free-standing institutions. The benefits of being part of a larger system (include) … the ability to work with the physician community in such a way that we will be able to continue to provide world-class services as close to home as we possibly can."
"We can augment services that don't exist here that the physicians feel are important and that the community needs. It'll include things like administrative functions, perhaps better supply chain management. …. We have a common IT platform in our electronic medical records so there can be some economies of scale that can be realized here from an administrative standpoint."
Doctor demand
And Zenty says Robinson has a good reputation in a market the University Hospitals system is interested in.
"We already have a number of physicians who practice in this region and when … (Robinson) put together a request for a proposal, when we examined this in detail, we thought that we could provide exactly what they had in mind."
Robinson already has other partnerships – with Summa and with Akron Children's – and Colecchi says he's not certain yet exactly what will happen with those. A lot will depend on UH, which has Rainbow Babies and Children's Hospital.
As of Jan. 1, two other community hospitals – in Parma and in Elyria – became part of the University Hospitals system.
"We don't have any immediate plans to make any changes in those two hospitals," Zenty said, and it's harder still to say how the merger will play out with Robinson. But, Zenty says it could mean more jobs in the area.
"We think that there are opportunities for us to bring additional clinical services that the medical staff here can't provide. So we see as well an opportunity for growth of programs and services either to augment what's here or to provide new that doesn't already exist in this market."
Added Colecchi, "Ultimately, if we're successful in adding new programs and services and enhancing the current programs and services that we offer, we would expect to see increased volume, which would require the need for more employees, not fewer employees."
One merger that fell through
Despite the acceleration of mergers in this region and nationally, one of the highest profile in Northeast Ohio fell through last week. It would have blended Akron General Hospital with a partnership of the Cleveland Clinic and Community Health Partners, a for-profit hospital company from Tennessee.
Zenty says he can't speak to the specifics of what happened there because UH wasn't involved.
The merger of University Hospital and Robinson Memorial is expected to be done by May. It will bring to 15 the number of full-service hospitals in the UH fold.