Loading...



From WKYC.COM / TV 3
Get the latest school closings and delays


Funding for WKSU is made possible in part through support from the following businesses and organizations.
---
For more information on how your company or organization can support WKSU, download the WKSU Media Kit.

(WKSU Media Kit


)
---

Ohio



Wednesday, January 15, 2014




Ohio's Sen. Sherrod Brown says he'll vote for omnibus spending bill




The Democrat has reservations, but says it's an improvement




Story by

LYNDSEY SCHLEY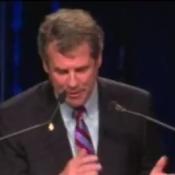 Sen. Sherrod Brown will vote for the omnibus spending bill.
Courtesy of FILE PHOTO
Download (WKSU Only)
In The Region:
Ohio's U.S. Sen. Sherrod Brown says he plans to vote in favor of the $1.1 trillion omnibus spending bill that has passed the House. Brown says while no one loves the bill, it does stop years of cuts to programs such as the Centers for Disease Control and medical research at the National Institutes of Health.
"This whole view from the tea party that you've got to cut every kind of program except defense is wrong-headed. We're starting to fix it with this new omnibus bill but we've got a lot more work to do."
Brown says there are still problems. There is not enough money in the budget to fund trade enforcement with countries such as China. He says broken trade laws can lead to Americans losing their jobs.
Page Options

Print this page

E-Mail this page / Send mp3

Share on Facebook
---
---
Stories with Recent Comments