Loading...


Ohio



Friday, January 17, 2014




Rep. Marcy Kaptur wants NASA to apply for technology hub grant




President Obama wants Congress to open up to 45 hubs for advanced research, such as the one already running in Youngstown


by WKSU's KABIR BHATIA


Reporter
Kabir Bhatia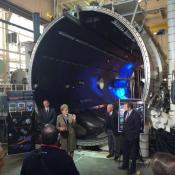 NASA Glenn Director Jim Free, Rep. Marcy Kaptur (at mic), NASA chief Charles Bolden and Sen. Sherrod Brown toured NASA Glenn Research center in Cleveland today, celebrating the passage of a $17.7 billion appropriation bill; the agency will announce in about 2 weeks how much of that goes to Glenn
Courtesy of K. Bhatia
Download (WKSU Only)
In The Region:
Congresswoman Marcy Kaptur visited NASA Glenn Research Center in Cleveland today, applauding the passage of a $17.7 billion appropriations bill earlier this week. She also noted that Northeast Ohio is poised to take advantage of President Obama's plan to build up to 45 scientific research centers throughout the country.

On a visit to North Carolina State this week, the president said the centers should integrate business, manufacturing and technology in specialized areas throughout the country. Congresswoman Kaptur is pushing NASA Glenn to apply to be one such hub, citing its proximity to Hopkins Airport and several large universities.
"What more can we do to, out of this center, to attract those additional research dollars here to Ohio. To expand our presence as a high-level scientific exploration and innovation center for the sake of the country?"

A technology hub is already operating in Youngstown, focused on 3-D manufacturing. Congress has so far approved funding for two more hubs. Kaptur says one of those will focus on an area unique to NASA Glenn -- lightweight metals -- and the location has yet to be decided.

Kaptur was at NASA Glenn as part of a visit by NASA chief Charles Bolden. He commended the center on its work on advanced space propulsion. The technology could send Americans into space in the next decade to battle asteroids.

NASA says its Asteroid Redirect Mission would identify, capture and relocate asteroids for further study, keeping them away from sensitive equipment -- and Earth -- in the process. And during his tour Bolden said NASA Glenn's pioneering work on the technology -- along with de-icing and solar arrays – has made the research center in Cleveland critical to commercial aerospace.

"We have birthed commercial space. We now have two American companies that carry supplies to the International Space Station. And they did it because we lent them our technology. We lent them our places to test. We lent them our expertise. They did it on their own, but with our help. We worked ourselves out of a job. We used to be the only way to get to lower Earth orbit. We don't do that anymore."

Bolden visited NASA Glenn -- one of 10 NASA research centers in the country -- a day after Congress passed an appropriations bill that includes $17.65 billion for NASA. He says the original request was for $17.7 billion, and he joked that he still intends to get that last $50 million at some point. An announcement is expected next month on how much of that money will be coming to NASA Glenn.

---
---
---
Stories with Recent Comments