Terry Pluto has written more than 20 books -- many of those about baseball, including "The Curse of Rocky Colavito," "Loose Balls" and "Our Tribe." He says there's just something about baseball that lends itself to great storytelling and narrative.


Terry Pluto's favorite baseball books:

"A False Spring" by Pat Jordan
"Sandy Koufax: A Lefty's Legacy" by Jane Leavy
"Summer of '49" by David Halberstam
"Ball Four" by Jim Bouton
"The Pitch That Killed" by Mike Sowell
Pluto says starting pitchers seem to be especially adept at capturing the human moments of baseball, which is why there are books like Jim Brosnan's "The Long Season" and Jim Bouton's "Ball Four." Maybe, says Pluto, it's because they have "plenty of time to ponder things."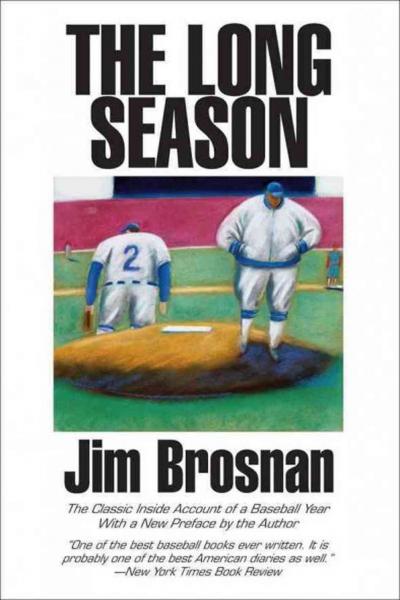 As do baseball players in general, he adds.
They get to the clubhouse early and, yes, "it's card playing, it's tobacco chewing, it's celery chomping, it's all kinds of things." But it's also time to put the game in the context of life.
And "what the really good literature does (is make readers understand) the insecurities they feel. There really are all these mini-dramas that play out much better in baseball than the other sports."
Bouton portrayed that in "Ball Four," says Pluto, quoting a line from Bouton: "In the beginning, you end up holding the baseball. And at the end, the baseball's holding you."
And Pluto says that may be why non-baseball writers, like John Updike, so often pick baseball as the setting for their works. He also says baseball lends itself to great writing because it's an "orderly game." He says, "half the time in football, you ask a coach what happened and they say: 'I gotta check the tape.' In baseball, nobody has to check the film."
Another book Pluto enjoyed is R.A. Dickey's "Wherever I Wind Up." The then-New York Mets knuckleballer talks about how he was sexually abused as a child and goes on to describe how he recreated himself from a fastball pitcher to a knuckleball pitcher.

Pluto is currently reading Dirk Hayhurst's third book, "Bigger than the Game: Restitching a Major League Life." It's filled with humor, pathos and the story of a guy trying get beyond his too-brief moments in Major League baseball.
He is, says Pluto, "basically losing his career. There's tons of guys like him, that's exactly the point: What it's like to try to get a roster spot and sweating out the cuts, and well if I make the Major League even for 60 days, I'll really have enough to cover the mortgage for six months, but if I have a minor league contract which is much less…"

"You have to cut through five layers to get to the big leagues," he adds. "In the baseball season, you'll turn around and all of the sudden you'll have the phenom who comes up at midseason or somebody is struggling and out they go."
"Some of the stories are more than a little risque, but in Dirk's case, he's very good about writing about his fears."
Other options:

MP3 Download
(4:21)