Loading...


Economy and Business



Tuesday, January 21, 2014




Union vote at Youngstown steel tube plant




Pittsburgh based union seeks to represent workers at Valourec Star


by WKSU's TIM RUDELL


Reporter
Tim Rudell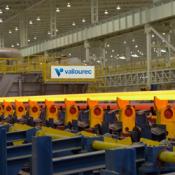 Steel tube manufacturing at Valourec Star. The Company is considering an additional $81-million dollar investment in its Youngstown operations
Courtesy of Valourec Star
Download (WKSU Only)
In The Region:
Two big decisions are now pending that could impact Valourec Star, the steel tube maker with the $1.2-billion investment in Youngstown. A week ago the company said it is pondering further local expansion; and this week a large part of its work force is taking a vote on whether or not to go union. WKSU's Tim Rudell reports.
Vote
An estimated five hundred local Valourec Star employees will cast ballots through Thursday on representation by the United Electrical, Radio and Machine Workers of America. The U.S. subsidiary of Valourec SA of France has been non-union since it began operating in the area of the old Youngstown Sheet and Tube about five years ago.

Labor history
Dr. John Russo, retired head of the Center for Working-class Studies at Youngstown State University says the vote may be yes… but maybe not for the dollars-and-cents reasons that often motivated unionizing in the past. "The way the economies these days, and given what's been going on in international competition…that's put the brakes on a lot of the type of negotiations that are going on on in terms of wages and benefits. And, I think it is more likely it's a lot of other issues in terms of dignity and grievances, and issues like that. This is a part of industrial democracy…we want a greater say in what's going on."

Not unusual
The parent Valourec Corporation has twenty three thousand employees worldwide, 80 percent of whom are in unions.
---
---
---
Stories with Recent Comments