The tax on cigarettes and alcohol first passed in 1990 to build what's become Progressive Field and Quicken Loans Arena. Voters extended it in 1995, originally to fix up old Municipal Stadium for the Browns. That morphed into building the Browns a new home base, what's now FirstEnergy Stadium.
The tax has raised $320 million, and the Browns, Cavaliers, Indians and business and Cleveland civic interests are pushing for the renewal.
Bad old days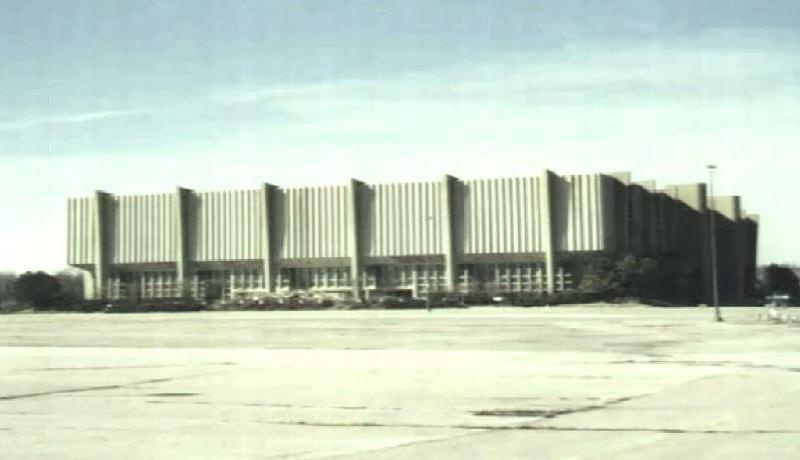 Joe Roman of the Greater Cleveland Partnership argued that the region had suffered for neglecting its facilities in the past, including the airport, Playhouse Square and the old stadium.
"Nobody wants to think about what that place looked like, if you really want to envision it in your head from 30 years ago. What you're considering doing today is I think an important bold step because it says, 'We're never going back there. We've made investments. Let's keep it that way; let's keep them competitive."
And representatives from the three teams laid out their cases: that the teams draw big money and attention to Cleveland, that the leases the teams have signed are some of the most community-friendly in the country, and that the public facilities are all showing their age and need public investment.
Nickels for billionaires
The audience was packed. Most stayed for more than three hours. Some weren't buying the arguments to extend the tax for 20 more years.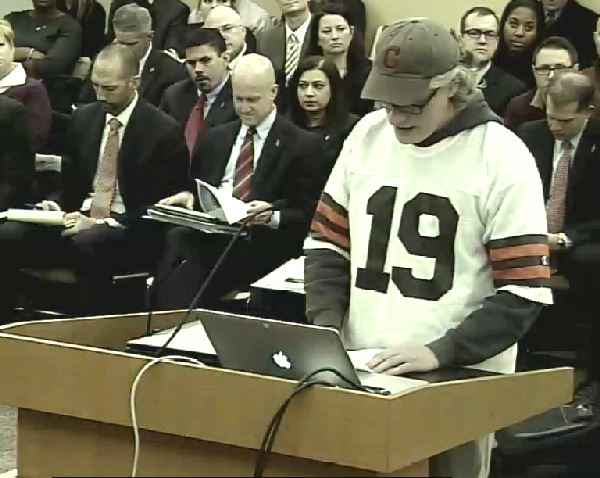 Tim Russo says he's been a Browns, Cavs and Indians fan for decades and is running for Cuyahoga County executive. He says the teams have not been transparent about their finances.
"If I came to this council to ask for one red cent, you would reasonably set a microscope to my bank account. When three billionaires come to this council to ask for hundreds of millions, did you do the same? Why is it every time a billionaire wants to save a nickel, the little guy has to cough up the nickel."
More money to maintain than build?
And Roldo Bartimole – who opposed the original tax – says its extension makes even less sense.
"Why now would you want to present Cuyahoga County taxpayers with a 20-year sin tax, which will actually bring in many more dollars than the 15- year original tax brought in – which was $240.5 million to build a stadium and to build the arena? You're not building it anymore."
The answer came down essentially to inflation, and the argument to protecting the investment so far.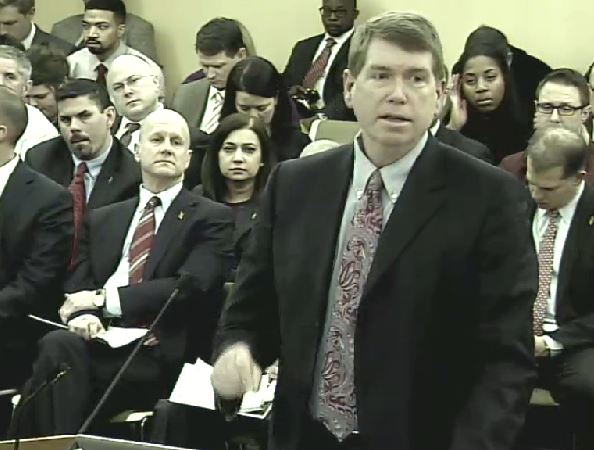 Several of the speakers and county council members raised questions about one of the most high profile upgrades planned – a massive, high-tech video scoreboard going into FirstEnergy Stadium. But supporters of the project say the money is also needed for many more mundane projects: Air handling, storm sewers, shoring up concrete and steel, and roof repairs.
Jobs, promised and realized
Dave Wondolowski of the Cleveland Building and Trades Council raised a point that is part of virtually any project that's proposed these days: jobs. He says the pro sports facilities have kept their original promise.
"These three buildings, Progressive Field, Quicken Loans arena and first energy stadium have meant and continue to mean thousands of jobs.both inside those buildings and outside in the bars and restaurants and hotels that serve some of the more than 4 million people who come to those events annually.
Continuing questions from council focused on lessons learned from the original deals, timing of the issue and specific plans for the money. And those questions are scheduled to continue at the next Cuyahoga County Council meeting on the issue Thursday. If council is going to get the issue on the May ballot, it must be approved by Feb. 5.

Here are five take-aways from the sin tax hearing from cleveland.com.