Thirty-two-year-old Diana Al-Hadid was born in Syria, spent most of her first five years in Saudi Arabia and then her family moved to Canton., sponsored by an uncle in Barberton. She majored in art at Kent State University to focus on drawing, then switched to sculpture.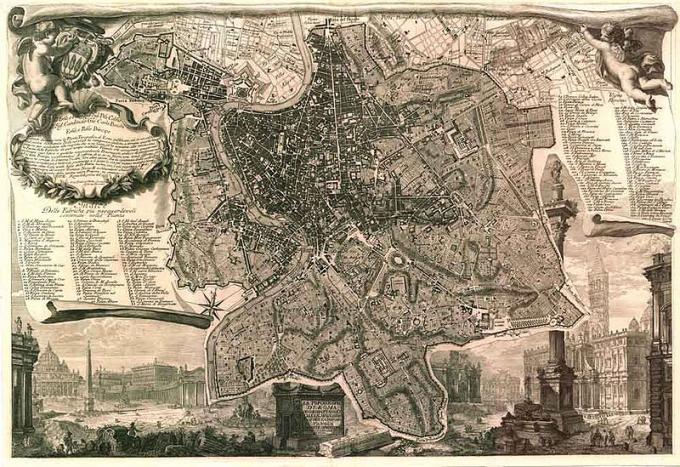 Al-Hadid says she was initially interested in building installation pieces that might take up a whole room.
"I was really into creating spaces that you could walk through and build an environment."

Not as fragile as they look
This winter, the Akron Art Museum features three wall panels by Al-Hadid and one large sculpture called "Nolli's Orders."
Her pieces are built of wood, plasterboard, foam, and fiberglass and look quite fragile. She says they aren't as fragile as they look and notes that many of her contemporaries are using such materials, even if they don't last as long as bronze or marble.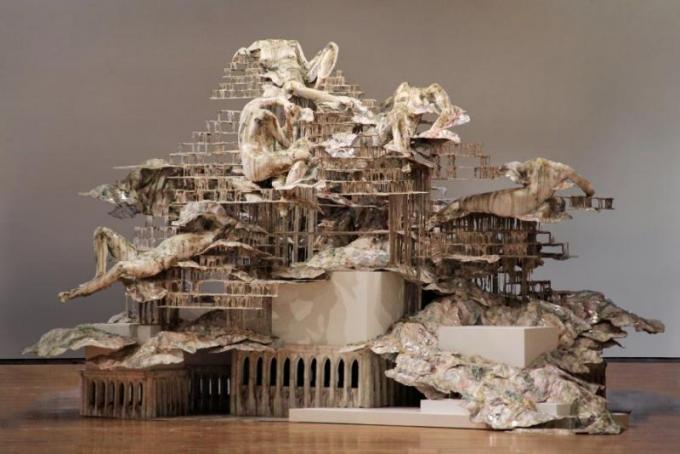 "Part of the fun of working today is experimenting with the materials that are out today."
Al-Hadid doesn't sketch designs of her sculptures ahead of time but prefers to improvise and experiment with the materials.
"I really don't have a total sense of what it looks like and let the work develop slowly over time."
"Nolli's Orders" is named for Giambattista Nolli, who in 1748 constructed a famous 6-foot square map of Rome. The piece began with white boxes in a grid on the floor. Al-Hadid added figures in a spiral or circle, keeping them from overlapping. They are actually body casts she made of her friends. The connective tissues in the structure recall Roman fountains as liquid appears to cascade down steps.


The connection to Giambattista Nolli's map came late in the process.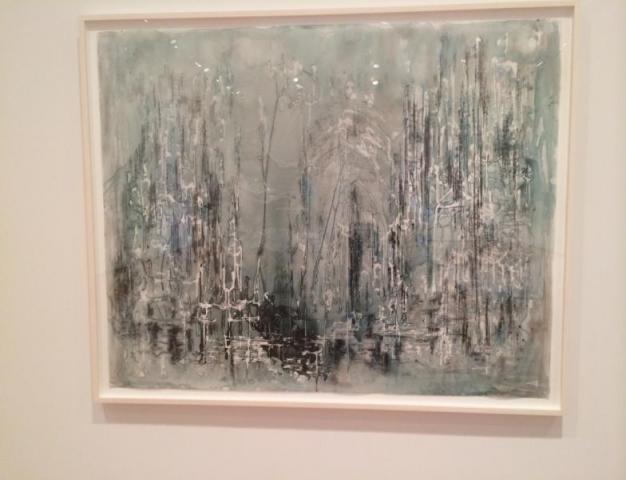 Peeling away revelations
Some of her wall hangings start out as drawings on transparent mylar and Al-Hadid drips acrylic on top to build it up into an almost three-dimensional object.
"Each inch of it is cast and built in the same way as a lot of the sculptures are. They're actually built into a mold, so I work on the image backwards and in reverse. I'll reinforce it from behind and then peel it away, and then I see what it looks like from the front."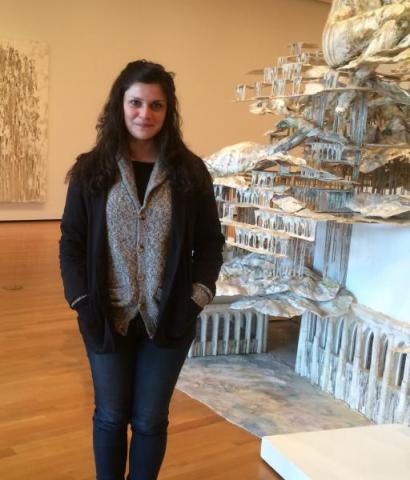 She ponders how much of the original image will remain in each work, saying she likes the "distortion."
Al-Hadid still has family in Northeast Ohio and was home for Thanksgiving with her husband and son. She had a showing of her drawings at the Massillon Museum while she was in graduate school eight years ago, but the Akron show is her first large-scale exhibition in Ohio.
"I feel like this marks an important moment for me personally."
Diana Al-Hadid will have a solo exhibition in Vienna Austria this fall. The Akron Art Museum will hold talks on her work Thursday, at 6:30 p.m. and Feb. 13 at 6:30 p.m.
http://akronartmuseum.org/calendar/