Loading...



From WKYC.COM / TV 3
Get the latest school closings and delays


Funding for WKSU is made possible in part through support from the following businesses and organizations.
---
For more information on how your company or organization can support WKSU, download the WKSU Media Kit.

(WKSU Media Kit


)
---

Ohio



Wednesday, January 22, 2014




LBJ's Air Force One is staying in Dayton




Attempt by presidential library in Austin to relocate it fails


by WKSU's M.L. SCHULTZE


Web Editor
M.L. Schultze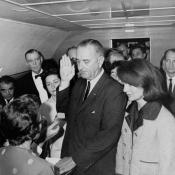 The library argued that the plane has special significance to LBJ. Ohio argued it is a key piece of Air Force history.
Download (WKSU Only)
In The Region:
The Air Force is promising that LBJ's Air Force One will stay in Ohio permanently. The plane where LBJ took the oath of office after John Kennedy's assassination has been housed at Air Force museum in Dayton. But the LBJ Presidential Library had asked that it be relocated to Austin, Texas. That raised protests from Ohio's congressional delegation, and the Air Force announced today the plane is not going anywhere.
---
---