It's probably not a surprise who Stephanie Kight, the leader of Planned Parenthood Advocates of Ohio, supports in this November's election.
"Planned Parenthood Advocates of Ohio is proud to endorse Ed FitzGerald as governor of the State of Ohio."
And it's not just FitzGerald who received the organization's endorsement. Every Democratic candidate for statewide offices also has the endorsement of the organization. In accepting the endorsement, each candidate said they'd make women's rights a key part of their campaign. FitzGerald believes Gov.Kasich didn't talk about it in his last campaign but should have, given his support for so many abortion restrictions that have been signed into law.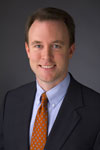 "What we have gotten is a series of extreme proposals that have virtually nothing to do with economic development whether it's cuts to education or cuts to local government services that affect police and firefighters. Or politicizing health care -- in particular the decisions women face in their greatest hours of need. That isn't what he campaigned on ,but that is what his agenda has been since he's been in office."

GOP restrictions
FitzGerald says he's hearing a lot of discontent about the new Republican-passed abortion restrictions when he travels the state. He says those new laws unfairly limited access to abortions, took family planning money away from Planned Parenthood and made it harder for abortion clinics to operate.The President of Ohio Right to Life is glad FitzGerald and other Democrats are putting the issue front and center.

"By their willingness to put this issue fore front, we thank them because all of the polling demonstrates that we win with common sense approaches."

Right-to-life says public opinion is on its side
Mike Gonidakis says his group's political action committee hasn't endorsed candidates, yet. But he admits when that committee meets, it will probably endorse mostly Republicans.

"We vet them and then we pick the ones that believe in the mission of our organization so therefore we will be endorsing, if the pack so chooses, to be a Republican slate.

Gonidakis says Democrats who agree with the group's mission could get the group's endorsement but most of the Democratic candidates tend to support abortion rights.

When you look at statewide polling on issues, job creation and education are the ones that continually land at the top of the list. But both sides in the abortion debate say it's time to make their positions known to voters. If Republicans win another term in office, it would give them the opportunity to pass more abortion restrictions if they want. And Democrats say voters need to be asking questions about those plans now, not later.