Loading...


Economy and Business



Thursday, January 23, 2014




Up to 200 garment jobs coming to Cleveland




Clothes maker setting up headquarters in the city and taking advantage of the area's location, workforce and manufacturing tradition


by WKSU's KEVIN NIEDERMIER


Reporter
Kevin Niedermier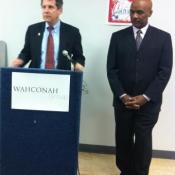 Sen. Sherrod Brown (at podium) and Wahconah Group CEO Issac Crawford announce that the garment maker will move its headquarters to Cleveland. Brown also announced a bill to require the federal government to only purchase 100 percent American made clothing and other textiles. Currently, the requirement is only 51 percent.
Courtesy of Kevin Niedermier
Download (WKSU Only)
In The Region:
A clothing manufacturer is moving its headquarters to Cleveland and creating up to 200 new jobs. The Wahconah Group will begin operations later this year at the former Goodwill Industries headquarters building on East 55th Street. Company CEO Issac Crawford says the jobs include corporate positions, designers, warehousing and distribution, customer service, and eventually some manufacturing work. He says Cleveland was picked because of its workforce and other factors.
"From a business standpoint, 80 percent of the U.S. population is from Chicago, Dallas, kind of east. We're right in the middle. So, within a day, for warehousing and distribution you're out there. The cost of living is very competitive. And as you see by the auto industry and rust belt, it's set up for manufacturing. So if you need support or manufacturing resources it's not like people look at you glassy eyed, this area knows manufacturing."
Wahconah makes a wide range of apparel. And the company has a new contract to make a multi-purpose coat for U.S. Postal Service letter carriers. Crawford says the coat's design properties with be used for a new performance-based apparel line which will include "wearable electronics," or "smart apparel."
---
---
---
Stories with Recent Comments