Loading...


Sports



Thursday, January 23, 2014




Cleveland Browns name Mike Pettine as new head coach




Former Buffalo Bills DC says the Browns needs a great quarterback


by WKSU's KABIR BHATIA


Reporter
Kabir Bhatia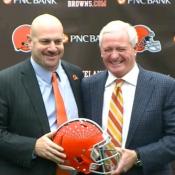 Mike Pettine was an assistant with the Baltimore Ravens before spending 4 years with the New York Jets, then last season with the Buffalo Bills
Courtesy of WKYC
Download (WKSU Only)
In The Region:
The Cleveland Browns introduced new head coach Mike Pettine this afternoon, amid questions of why he took the job. At a press conference, former Buffalo Bill's defensive coordinator was asked several times if he's concerned that predecessor Rob Chudzinski only lasted one season. Or that team owner Jimmy Haslam's company is being sued for millions of dollars in fuel rebates. Pettine says he's concentrating instead on the Browns' young roster and how he can turn the team around.
"Most people think of toughness in just the physical sense. I think just as important is the mental toughness. That heads don't drop and it's 'same old Browns,' and teams talk themselves into losing. That, to me, is the culture that needs to be changed here."

Pettine says he plans to direct his attention toward the search for a great quarterback for the team.

"When you prioritize the positions in National Football League, there's the quarterback, and then there's about 10 open spots, and then you start talking about the next position. I'd be foolish – even as a defensive guy – to ignore that issue. I'm not going to be that defensive coach that says, 'We're gonna win it on defense and we're gonna run and we don't need to have a great quarterback.' To win in this league, you have to have a great quarterback."

The Philadelphia native has also served stints with the New York Jets and the Baltimore Ravens.

Last year in Buffalo, he put together the 10th-best defense in the NFL.

Pettine replaces Rob Chudzinski, who was fired at the end of last year after the team went 4-12. The Browns have had just three winning seasons since 1989.

Pettine's father is famed Pennsylvania high school football coach Mike Pettine Sr., who went 326-42-4 record in 33 seasons at Central Bucks High School West.
---
---
---
Stories with Recent Comments