Loading...


Economy and Business



Monday, January 27, 2014




Youngstown Vallourec Star plant workers vote against unionization




Company says it played fair, union says otherwise




Story by

LYNDSEY SCHLEY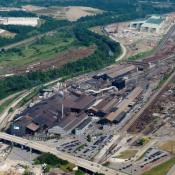 Workers at this Youngstown plant owned by Vallourec Star rejected unionization.
Courtesy of Vallourec website
Download (WKSU Only)
In The Region:
Workers at Youngtown's Vallourec Star plant voted 2-1 against the effort to unionize the steel pipe plant Karen Hardin of the United Electrical, Radio and Machine Workers of America explained the loss by saying the company did not play fair. She said Vallourec hired a union-busting firm, held anti-union meetings and gave almost $1 million in bonuses to employees the week before the election.
"Union-busting is a big issue everywhere because it's the first thing a company does," Hardin says. "They'll tell the workers 'The union can't do anything for you,' but they'll spend all this money to keep it out. And it's effective."
A press release from the company says Vellourec is "proud of our on-going investments in our employees and the local community and will continue to provide a safe and respectful workplace where pay and benefits programs remain some of the best in the valley and surrounding areas."
---
---
Stories with Recent Comments