Loading...


Courts and Crime



Friday, January 24, 2014




Ohio family files lawsuit after controversial execution




Lawsuits cites execution as 'cruel and unusual punishment'




by WKSU's STATEHOUSE CORRESPONDENT JO INGLES



Reporter
Jo Ingles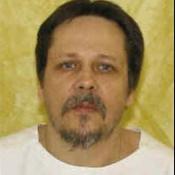 Dennis McGuire's family filed a lawsuit after his controversial execution.
Courtesy of State of Ohio
Download (WKSU Only)
In The Region:
The family of the death row inmate who was executed in Ohio last week has sued in federal court asking that future executions be halted. Jon Paul Rion, the attorney for Dennis McGuire's family, says his execution by an experimental drug combination was unconstitutional because it inflicted cruel and unusual punishment.
"It's our belief that at least for 19 minutes, Mr. McGuire was strapped to a table and suffered enormously as he was deprived of oxygen and consciously suffocated in front of his family," Rion says.
Rion says in addition to asking for a halt on executions, the suit also asked for restrictions on the drugs used to kill McGuire. Rion says the drugs were not used for their intended purpose. The Ohio Department of Rehabilitation and Corrections says it does not comment on pending litigation.
---
---
---
Stories with Recent Comments