Loading...


Ohio



Monday, January 27, 2014




Cold weather brings push for conserving natural gas and watching for gas leaks




Dominion East Ohio, Columbia Gas want consumers to save money by saving gas


by WKSU's KABIR BHATIA


Reporter
Kabir Bhatia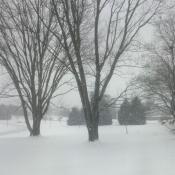 A wind chill watch is in effect until Noon Wednesday as snow and sub-zero temperatures hit Northeast Ohio
Courtesy of M.L. Schultze
Download (WKSU Only)
In The Region:
With another severe cold snap headed to Northeast Ohio, the region's utilities want consumers to conserve – and to be ready for higher bills. Dominion East Ohio is asking its 1.2 million natural gas customers to save money this week by turning down the thermostat on furnaces and hot-water heaters. The company says it has additional pipelines ready to meet increased demand, but it also wants to be prepared if the cold weather continues. Spokesman Neil Durbin also says there's help for customers who are just now getting higher than usual gas bills from last month's bitter cold.
"There's a program available – it's a state program – called the Percentage of Income Payment Plus, or PIPP-plus. And that enables income-eligible customers to maintain their natural gas service by paying just 6 percent of their total monthly household income."

Durbin says PIPP-plus also has provisions for wiping out past-due gas bills. He adds that the federal Heat Energy Assistance Program -- or HEAP -- is another well-known plan, but it only provides a one-time payment. Durbin encourages customers to conserve going forward and to call 800-362-7557 for other payment options.

Consumers should also to be on alert for gas leaks or other safety issues. Increased demand in the coming days has Dominion East Ohio asking its customers to be prepared if there's an appliance or gas service malfunction. Durbin says there's an easy way to trace where a problem has started.

"If a customer's having a problem with a specific appliance – like say the furnace is not working as well as they're accustomed to – one way of checking to see if that's a natural gas problem or an appliance problem would be: If all of a customer's natural gas appliances are not working, then would indicated a problem with the natural gas service. However, if the problem is just isolated to a specific appliance, that would indicate the problem originates with that appliance."

Durbin says Dominion East Ohio customers should call 877-542-2630 if they smell gas or suspect other gas-related safety issues. The hotline is available 24-hours-a-day, 7-days-a-week. Other utility emergency numbers:

Columbia Gas (800-344-4077)
AEP Ohio (800-672-2231)
Dayton Power & Light (877-468-8243)
Duke Energy Ohio (800-543-5599)
First Energy (888-544-4877)
Vectren Energy Delivery of Ohio (800-227-1376)
---
---
---
Stories with Recent Comments