Loading...


Ohio



Monday, January 27, 2014




High winds force big rigs off the Ohio Turnpike this morning




Severe cold is moving in to force other shutdowns


by WKSU's KEVIN NIEDERMIER


Reporter
Kevin Niedermier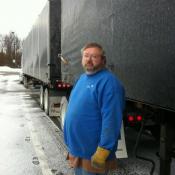 Truck driver Roger Tomlin of Youngstown takes the turnpike wind ban in stride at the service plaza near Elyria.
Courtesy of KEVIN NIEDERMIER
Download (WKSU Only)
In The Region:
The weather caused some slow-downs today on the Ohio Turnpike, but it wasn't because of snow or ice. Semis pulling more than one trailer were banned between 3 and 9 this morning because of high winds that can push these trucks off the road or into other traffic. Truck driver Roger Tomlin of Youngstown was waiting it out at the turnpike service plaza near Elyria with his two trailers filled with aluminum parts bound for Indiana. He says the fairly common occurrence slows him down a little, but he understands the need to park his rig.
"From there basically, it's just sit and wait. Or sometimes we'll deliver one and then come back, get the other one and deliver it the next day.
"It don't matter how good of a driver you are, you can't control Mother Nature. She does what she wants to, so it's safe for everybody if we do it that way."

Ohio Turnpike Commission officials say this was the first wind ban so far this year, but four were issued last year. The bigger trucks are banned when winds reach a sustained 30 mph or higher, or gusts hit 45 mph or more.
---
---
---
Stories with Recent Comments